Purpose Behind The Prayers
Students meet before school hours at Olathe East to practice their beliefs.
The argument against Christians being active on any public school campus has been prevalent throughout the nation for many years. It's been shaded grey as many argue it is a student and citizen's right to practice their beliefs if done peacefully and without disruption of others in a school setting. What is the code of conduct when it comes to clubs at East, particularly Christians meeting together on school grounds?
For most students, clubs are a typical part of one's high school career, to become more involved, meet people with similar interests or just to fill a space in seminar. Two clubs at East have decided to use time before school to connect on the basis of faith. Fellowship of Christian Athletes and Awake are two Christian groups that meet before school on Tuesday and Thursday mornings respectively. These clubs have been present at East for years, though they are not widely advertised or known. Fellowship of Christian Athletes is a national organization, though each school has its own leaders who run their clubs specific to their choosing.
"[FCA] doesn't have to be geared entirely towards athletes though it usually is. It's just incorporating God into a sports team and how the two play out together and learning how to focus your sport to God," Senior FCA Leader Lauren Stevens said.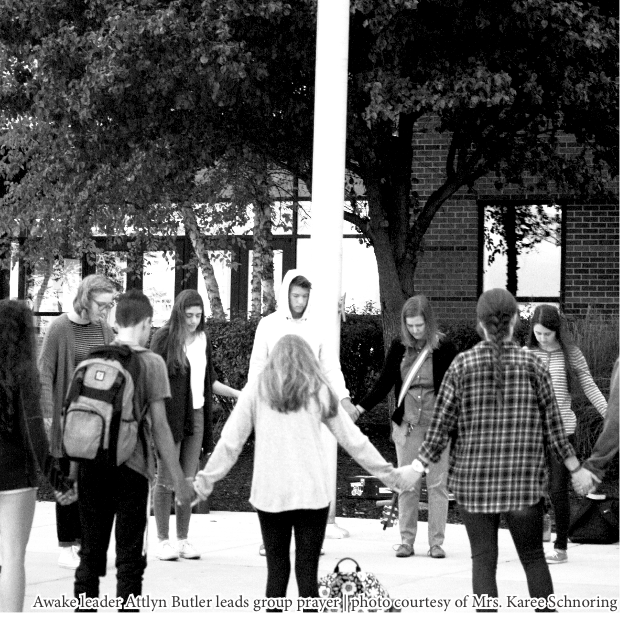 Fellowship of Christian Athletes and Awake are both completely student led and established, but supported and sponsored by East Science teacher Mr. Jacob Gunn and English teacher Mr. Justin Williams.
These students have decided to put their faith on the forefront of their lives not only at home, but in school also by becoming leaders.
"I said yes to becoming a leader because when you read something about God and you're excited to share it with people, FCA gives the me opportunity [to share]," Senior Co-Leader Meg Voigt said.
Stevens shared similar motives for desiring to lead and be a part of this group.
"I had seen how the other leaders had worked through FCA and been such a light for God and I wanted to do that also and thought it would help my own relationship with God and showing others to him also," Stevens said.
Awake and FCA also work to carry out a common mission through their weekly meetings.
"Our mission is to allow all people the opportunity to experience the hope and love of Christ through prayer and worship. It's our goal to bring believers together in community, to share common ground and pray for our nation and school. You don't have to believe what we believe to belong here," said one of Awake's Senior Leaders Attlyn Butler.
While FCA is a national organization, Awake was established about eight years ago by a group of Olathe East students and has been passed down to new leaders each year. Awake and FCA both provide a place for students at Olathe East to feel safe to practice their beliefs openly.
"Our schools are a place where many people are broken. Giving people a place where they can be reminded of the hope of Christ and be encouraged by other believers is important," Butler said.
"We don't really talk about faith a lot in public schools so it's nice to have a place that you know everyone has the same belief system as you and everyone is living for God together," Voigt said.
"Your relationship with God isn't meant to be just at home; it's supposed to be constant throughout your life especially in high school," said Butler.
These meetings are not just random, to these leaders it's one of the most important parts of their high school career, and the experience has allowed them to grow and thrive around people who are believing for the same change they are.
"I think it's important to have groups that you can go to and be involved in and connected to that are going to push you to greater things than just coming to school and existing," Stevens said.
"Also I think meeting together at school opens the doors to speak about God outside of FCA and Awake and I think that's really nice too," Voigt said.
Both of these groups do more than just meet in a classroom or a theater weekly. Awake and FCA extend beyond just the Olathe East campus, through events such as See You at the Pole: a national day of prayer where students meet outside their schools around their flagpoles and pray for schools in our community and the nation as a whole. Olathe East students just recently took part in the gathering earlier this fall on September 27.
"It is encouraging to see the other believers in our school building we may not have known about before. It's an opportunity to unite with others and stand in prayer for the people in our community," Butler said.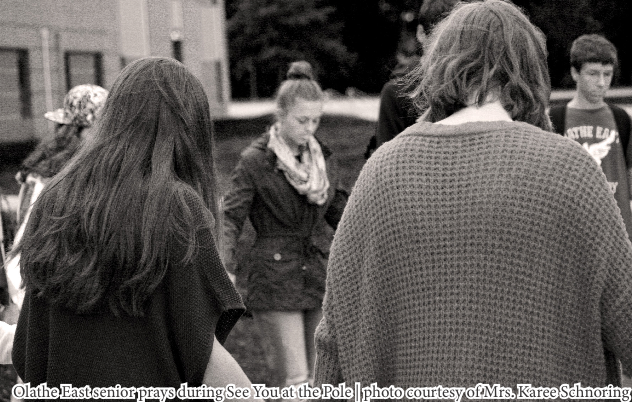 A football field is chosen as the location of these groups to use for an outreach event called Fields of Faith, another national event these groups attend and support that takes place each year on school grounds.
"We meet at Blue Valley High School and a church puts on music and someone comes and talks and we meet together with a bunch of different people and pray. It's really cool to see the community and many FCAs coming together," Stevens said.
What will the future look like for these groups?
"We are hoping to build relationships and mentor the underclassmen who will be able to continue Awake for many years to come," Butler said.
These leaders believe these groups continue to meet throughout the year, and next year a new group of leaders will arise to continue praying every week inside East to continue the plan of those before them.
Mychaela Burris // Senior Staff Writer