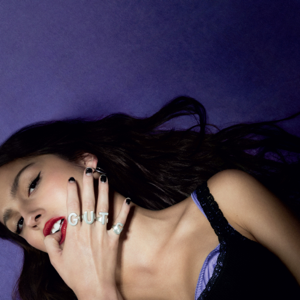 20-year-old actress and singer, Olivia Rodrigo, released her sophomore album, Guts, this past month. Rodrigo's music became popular at the start of 2021 when she released "drivers license" and the song stayed at number one on the charts for 8 consecutive weeks. Her popularity is widespread because of her ability to relate to teenagers so well with many melodies. Both of her albums range from slow ballads like "vampire" to a more punk style in "ballad of a homeschooled girl."  When I listen to both of Rodrigo's albums, there are no songs I skip because she creates each of her songs with the purpose behind them. My personal favorites from Guts are "get him back!" and "lacy". I love the contrast between these two songs, "lacy" is very slow and pretty while "get him back!" is very chaotic and powerful. 
There is a stigma against young women in the music industry only writing about their relationships or boys, but Guts begins with "all-american b*tch," this song is purely about herself and the pressure of teenage girls to stay nice and polite when they just want to show their anger. She starts the song calmly and progresses into her screaming and letting all her emotions out. Along with "all-american b*tch," track 5, "ballad of a homeschooled girl," is a punk song about the insecurities she has about being in public and doing something wrong. Rodrigo has recently talked about how she sticks to a small group of friends rather than having many people she's close to. 
Although it's not everything she writes about, she does have her fair share of breakup songs. "bad idea, right?" sticks to the pop-rock style she commonly uses. The song is about getting back together with someone who isn't good for you, but you can't help it. This was her second single for Guts and became wildly popular on TikTok. Track number 8, "get him back", uses a double meaning of her actually wanting to get revenge on him and wanting to get back together with him. Rodrigo constantly puts herself down in her own songs by things others make her feel. In "love is embarrassing" she hates herself because she's still stuck on some loser who used her. 
"Vampire", "Logical", and "the grudge" are all piano ballads about how she has been hurt in her past relationships.  When a song comes out, everyone will speculate on who it is about. Rodrigo's new song, "lacy" is alleged to be about her friend Gracie Abrams and the jealousy of her touring with Taylor Swift during The Eras Tour. In an interview with Rolling Stone, Rodrigo debunked that she and Taylor Swift had "beef". The beauty in songs is that each person can interpret them from a different perspective without ever knowing the original purpose.
Rodrigo's voice is not the only reason why she is well-liked but her lyricism in her songs. "And I know in my heart, hurt people hurt people and we both drew blood but, man, those cuts were never equal." This line from "the grudge" is her admitting that she also damaged them, but it was not as deep as hers. In "making the bed" Rodrigo feels lost in the world and doesn't know where she fits. "Well, sometimes I feel like I don't wanna be where I am, getting drunk at a club with my fair-weather friends." Rodrigo uses the term "fair weather friends," which can mean people who run away in conflict when someone's in trouble. Her lyrics make people listen to her songs over and over, so they get the deeper meaning. 
The whole theme of Guts is teenagers not being enough for people. The album ends with two songs that really illuminate that. "Pretty isn't pretty" expresses that no matter what you do to make yourself look beautiful, not everyone will think you are. Rodrigo has been in the spotlight for many years of fame which comes with many people trying to bring her down, nothing she will do or change about herself will make every one like her. Her final song on the album is "teenage dream" It encapsulates her album as a whole. The hardships of going into your 20s not being what everyone wants you to be. Her first song on Sour, "brutal", says "Where's my teenage dream?" and she ends her second album with the lyric, "I'm sorry I couldn't always be your teenage dream." She is apologizing to the media that she isn't everything they want her to be and that she is saying goodbye to her teenage self.