Hawks From Abroad
Students from Other Countries Share Their Experiences
Andrea Rizzi traveled to Kansas from Aosta Valley, Italy, for a chance to play soccer and study.
"My goal is to play soccer [for a] college and so the easiest way [is] to come here. In Italy a lot of colleges [don't] have soccer teams and [they don't] offer scholarships for [soccer]. It's not easier to [play soccer here] but you have more chances to be chosen by [a] college," Rizzi said.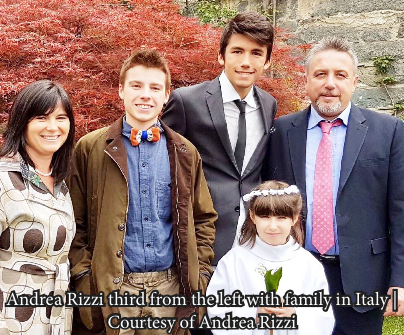 According to Rizzi, the popularity of soccer in Italy increases competition and forces one to choose between a sport as a career or attending college. He believes that in the United States, football and basketball dominate and create more opportunities for soccer players.
"During high school I had some teachers that [didn't understand] people who hope to play soccer because it [was a] waste [of] studying [time]. I can do both [college and soccer here] because maybe one day I don't want to play soccer [anymore]," Rizzi said.
In addition to his soccer aspirations, he came to the United States in order to graduate from high school a year earlier. According to Rizzi, Italian high schools have five years instead of four. Another difference he observed was the dynamic between teachers and students.
"[In Italy] when [the] teacher comes into class we have to stand up and say, 'Hi, Teacher.' He [will] tell you [when] to sit down… [They are the] teacher, you are the student. If [we] talk, it's for school matters, not something like, 'How are you?'. So for the beginning it [was] very strange to talk to the teacher like a friend," Rizzi said.
Alina Tomaszczak, a student from Germany who came here through an exchange program, spends this school year at Olathe East. Since third grade, her father had encouraged her to participate in the program. She was hesitant to leave Germany at first, but later changed her mind.
"There was a meeting in Bremen about organizations for exchange [programs] and from that day I was like 'Okay, I want to do it', and I looked at 20 organizations and found one for me," Tomaszczak said.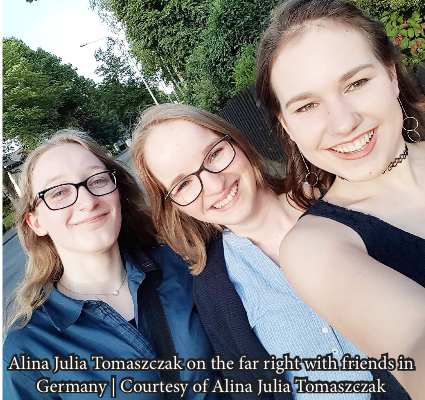 One unpleasant difference she experienced in Kansas pertained to baked foods.
"The bread is so different. After three weeks, I was sick of the bread here. I was like, I need to bake my German bread," Tomaszczak said.
Despite her dislike for American bread, Tomaszczak feels accepted and views Americans as friendly people willing to talk with anybody.
"It doesn't take [Americans] much time to get new friends," Tomaszczak said.
This year Arturo Andrade, an ELL student from Ciudad Juarez, Mexico, moved to the United States to keep his family intact. His two brothers relocated to the United States two years ago, and his father decided to join them. Despite some struggles, such as learning a new language and experiencing a new culture, Andrade's view of America remains positive.
"Here it's so green. I like this place. Here [it] is not racist, well sometimes [it can be]. I visited some very racist places, like Arizona and Texas. [But] here [it] is fine," Andrade said.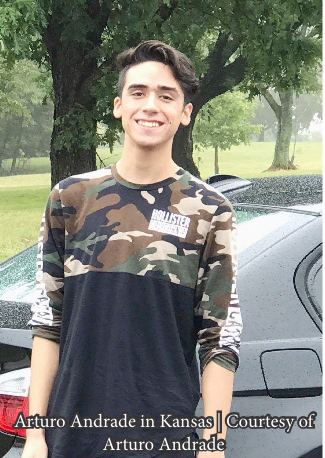 In Mexico, Andrade would wake up at 11:00 a.m. to go to school. This starkly contrasts the approximate 6:00 or 7:00 a.m. wake-up time for most students at Olathe East. Andrade explains his former city is not as privileged and well maintained as Olathe.
"This school is really really big [compared to my school in Mexico]. The classroom is so ugly, it's so dirty. I used to find sand in the classroom. Here, [the school] is so perfect," Andrade said.
For Andrade, the difference in class sizes between Kansas and Mexico took some getting used to.
"In Mexico, you have about` 60-65 students for one teacher. And you have the same group for three years. We change classes, but we always have the same group," Andrade said.
Laura Baumgarten, another foreign exchange student from Germany, first learned of the program through her English teacher in sixth grade. From then on, Baumgarten decided to someday participate in a foreign exchange program. Before coming, she had preconceived notions of schools in America.
"I was really afraid of going to school, because there were the clichés in Germany that when you go to an American high school and you want to sit with someone, they just don't let you sit with them. You have groups, very tight groups," Baumgarten said.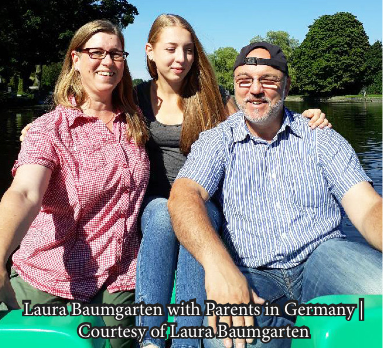 Baumgarten explained that in Germany driving is not an essential skill since homes, schools, and stores are within walking distance. People needing to travel quickly use bikes or public transportation.
"America is so big. You can't go anywhere by foot, you have to take the car everywhere. And I don't have a driver's license, so I have to always ask my friends or my family to drive me," Baumgarten said.
Palestinian Zainab Alagha, an ELL student, came to the United States with her family from Qatar where she was born and raised. Her family moved because of her brother, who seeks an education in the United States. Before coming to America, she spent a year in Qatar without her dad while he set up their new life in Kansas.
"He brought us to here. And also my grandpa, he lived here for a long time, so he has an American passport. So from him, from my grandpa from my dad's side, we got the visa to come here," Alagha said.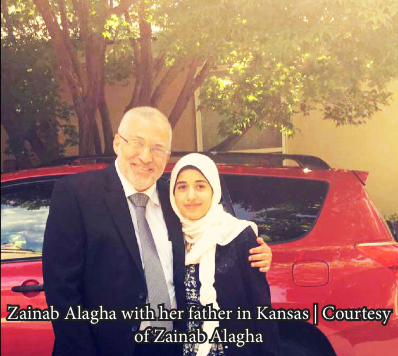 Qataris have the freedom to dress how they wish, but most tend to wear traditional clothes.
"The men, they wear a white, long dress. But it's for men. We can't wear it as women. But it's modest, it covers everything. It's called a thobe. And there's abaya. The black dress. It's really long, it's only one piece, and it's black, it's modest. This is why we wear it, it's the way [we] dress," Alagha said.
Coming from a country where freedom and privileges are lacking, she is thankful for coming to the United States and living a new life here in Kansas.
"I like how we are free. They are giving us the freedom to do what we want. No one is against that," Alagha said.
Andrea Shehi// Staff Writer
Margo Dulny// Staff Writer