Join the Movement
Slavery. A word heard in history classrooms, or in conversations about far off countries. But slavery is here, today, in Kansas City. There are more slaves today than ever before in human history.
There were almost thirteen billion slaves shipped between 1525 and 1866. There are now forty seven million people in a form of slavery worldwide, according to the Kansas City Star.
"It's not a super comfortable subject. We'd like to think that we're not selling slaves and it's not a thing," said senior Rachel Post.
Human and sex trafficking: "It's the illegal trade of human beings. It's the recruitment, control, and use of people for their bodies and for their labor. Through force, fraud, and coercion, people everywhere are being bought and sold against their will– right now in the 21st century," said A21, a nonprofit organization that fights human trafficking.
"Kansas City is a huge hot spot for it too. It's where all the highways converge, so lots of deals and trades are going around here," said Post.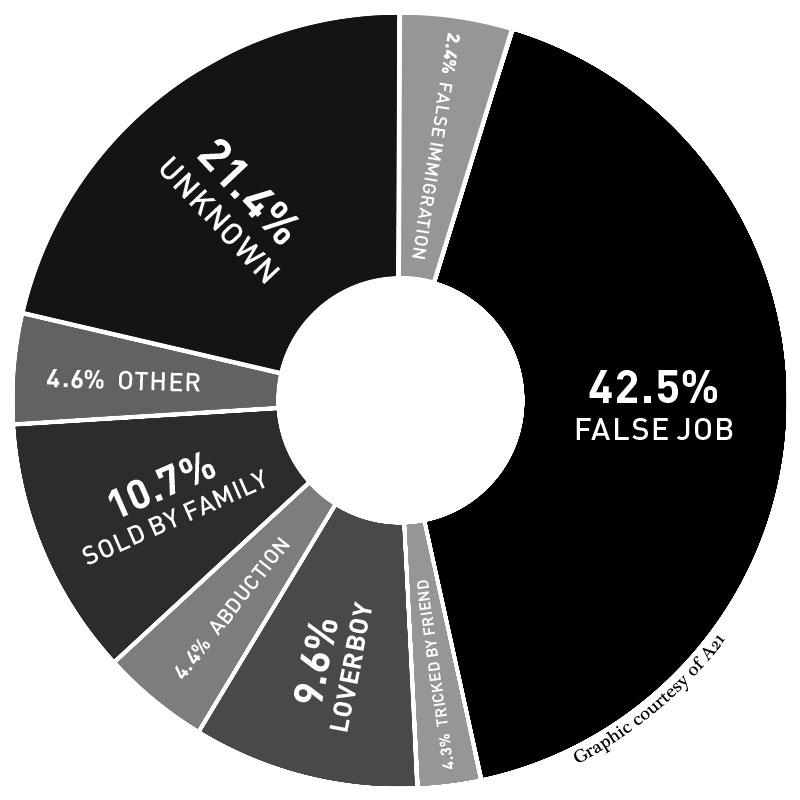 "In Kansas, cases have doubled in the last five years, reaching 54 in 2016. In Missouri there were 48 cases in 2012. Last year, that number jumped to 135,"  according to KCUR.
Current organizations are currently fighting human trafficking, but they are in need of greater support. How are these organizations bringing about change? A21 prevents slavery, rescues victims, and restores survivors by providing for and protecting them and rehabilitating them to join society once again free from the bondage of the sex trade. One event planned by A21 is the "Walk for Freedom," a silent protest that takes place every year in cities around the world.
"I found out because I go to the Cause church downtown. They hosted it down there, and I was serving that day and then I also did the walk too," said Post.
Many are caught in the vicious trade cycle, but the truth is less than one percent are ever rescued.
"I specifically walk because the statistic shocked me. I read a lot, and just of all the cases that there are, I feel like we think it's some distant thing in some different country, like 'oh this is happening, but I can't do anything about it,' but literally it's all around us," said Post.
This industry is not one easily dispersed. One hundred fifty billion US dollars are circulated throughout this criminal industry each year, which could be brought to a halt when people are united against the injustice.
"We know very little about it, and there needs to be more attention for it. It needs to be more talked about in a way, but in the beginning it's almost taboo to talk about. It's just not good. I just feel like no one thinks it could happen to them because we do live in a good area, but empathy and compassion is just kind of important," said Post.
Human trafficking is not just blind kidnapping, but rather there are many different tactics traffickers use to entrap their victims. The majority of victims are lured in by hopes of a steady job opportunity but find themselves being exploited. (Refer to the graph for other ways that victims are taken advantage of.)
To end slavery all over the world is not impossible, including inside our city. Already there are individuals and local organizations fighting to diminish the growing number of victims in Kansas City. Organizations such as the 1X1 Project, Veronica's House and KC Street Hope are just a few fighting together to end slavery in the 21st century.
"If we're looking for it we can report more. Just that weekend after the walk, three girls and two others were [rescued] and seven sex traffickers were put into jail," said Post.
Human and sex trafficking is commonly believed to be a big city issue or to be found in third world countries. In reality this injustice is happening everywhere around the world including our city. Awareness is the place to begin. Knowledge makes possible the ability to be a part of positive change.
"Slavery is more stoppable than ever, and that's why we're here, rallying around the world and doing the work together," said A21.
Esther Rose // Staff Writer
Mychaela Burris // Staff Writer