Marching Band Ends On A High Note
Sophomore Aaron Bethel once said about the awards, "It gives us more confidence because it shows that we are able to do more than we think. "
The marching season has come to an end and finishes with a total of five awards won. The awards include: Best Soloist, Best Visual Effects, Best Individual Marching, First in Division, and Grand Champions. According to Junior Jordan Flemming, the band did not win Grand Champion last year but have improved since then.
Jordan replies about the difference between this season and the last season, "I think that this year has gone a lot smoother than the last, and that the music fits better with the routine."
According to Flemming, the people watching them perform seemed to enjoy the music much more as well.
"One way the band could improve is with counting, this is a problem everyone has though." According to Flemming, their most successful marching event would have to be at Shawnee Mission North where they had a "clean sweep".
From the interview with Jordan Flemming, one can say that it was a successful season for the Olathe East marching band. It was said that there has also been a difference in how they are directing their sections. This could be the cause for the band doing as well as they did this year.
Aaron Bethel, is a sophomore and is in his second year in band. "I feel it was a smoother season for the band because we have progressed a lot", said Bethel. While comparing the current and previous seasons he also said that there is a better ensemble this year. Bethel also agrees that the band's most successful marching even this season would have to be the competition held at Shawnee Mission North.
The common response is that the Shawnee Mission North marching event was the most successful event for the band this season.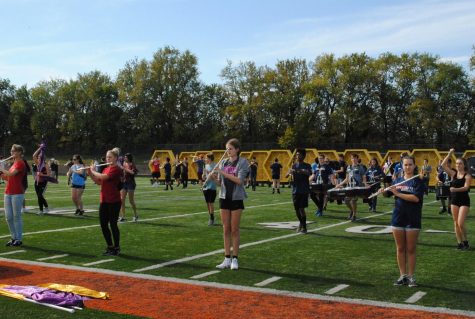 Sophomore Gwynna Purdy is a first year marching band member.
"I'm new to marching band this year so I don't have much to compare to," said Purdy.
She admitted that she does not know what a good band season looks like. Purdy's final statement was that she doesn't know what the awards mean to her , but she knows it's an accomplishment. This would be the case for most first year marching band members. Those who are two to three years into marching band would obviously have more experience.
Mckenna Dick is a senior this year and plays the clarinet.  This would be her third year in marching band. She believes that the Shawnee Mission North event was the band's most successful event as well. "I think that we[the band] were more successful this season and that this season has also went smoother," Dick said.
The marching band 's awards are representations of their hard work, and point to a successful year. Mckenna Dick as well as Jordan and Aaron believe that it is "a payoff for all the hard work we [the band] has done," said Dick.
Jordan Flemming shared that his favorite memory from this marching season was at the end of KBA when the whole clarinet section gathered together and began to shout "clarinet cult" repeatedly. Jordan said everyone in the clarinet section are all so close that they are like family. His favorite part about marching band besides his extended family is the fact that marching band is one big group competing together instead of three separate groups competing against each other.
The end of this band season means a new one to come. Band students agreed that there were a lot of successful events this year.
Kaytlin Willis // Staff Writer