Care to be Aware
Breast cancer awareness month may be over, but awareness will continue to spread.
Sophomore Lydia Salberg tells her story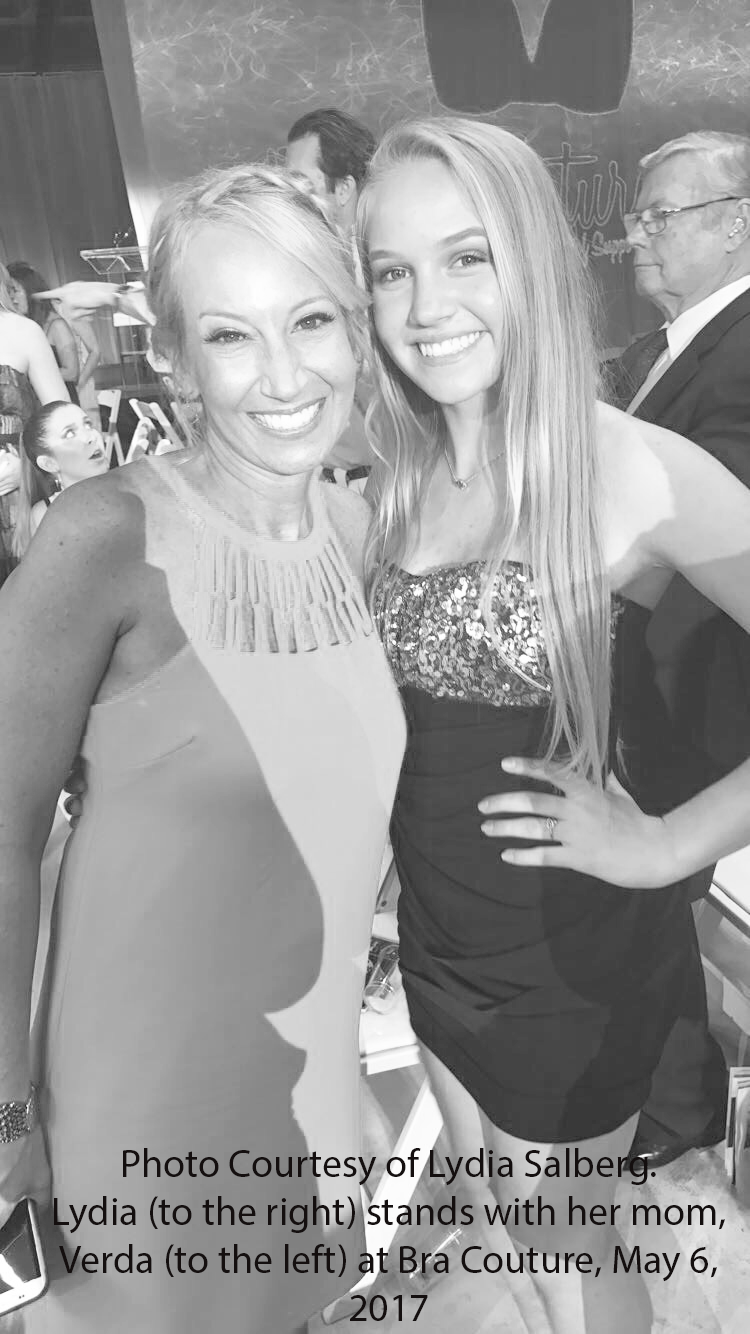 Verda Mae Salberg, an angel of a mother to Lydia, was an extremely friendly and cheerful person. She made everyone around her feel loved. Verda was first diagnosed with breast cancer when Lydia was in first grade. Verda was considered cancer free around 2008, however, six years later, Verda was diagnosed with stage four breast cancer. Verda was given medicine that helped the tumors in her chest and stomach to shrink after about a year of using them.
"For a while, everything was good," Lydia said. However, in October, Verda went back to the hospital because her condition was declining. The doctor told Lydia that Verda's body had become immune to the medicine and it was now harmful instead of helpful. Her cancer had also spread to her liver, causing the organ to fail.
"The cancer just kept spreading and they couldn't really do anything," Lydia said. All treatment was stopped to try and get Verda healthy enough to spend the rest of her time at home. Verda came home September 22.
"It was a lot easier seeing her at home with her family and friends where she was supposed to be," Lydia said. The next day Lydia went to visit Verda at a hospice house she was taken to the previous night, due to seizures.
"I sat there with her and I laid my head on her and just held her hand," Lydia said. All of Verda's friends and family were there to support her.
"It was hard because I could tell she was fighting. She didn't want to leave us," Lydia said. Just a few hours later she passed away.
To cope with everything, Lydia talks to her best friend Sam Dunlap.
"She helps me whenever I need her," Lydia said. If things get too overwhelming, Sam will take Lydia to a park so they can swing together. Lydia has always had anxiety but recently things have gotten worse, so she is thankful for Sam.
Lydia has been going to events and fundraisers her entire life, including Bra Couture. Verda was actively involved with this fundraiser and even got to model for two years. Bra couture is now adding a program called "Verda's place" for people to listen to music and dance after the show, in honor of Lydia's mom.
"I think if you're going to have an event and raise awareness for something, everything should go towards that and people should know where their money is going," Lydia said. Lydia really loves bra couture because nearly all of their funds go towards research purposes.
This year, Lydia's dad is planning to start a foundation in honor of Verda. This foundation will raise awareness and raise money for those who can't afford treatment. It is not only for breast cancer, but for any cancer.
SUSAN G. KOMEN FOR THE CURE
Susan Komen died of breast cancer at age 33 in 1980. Her sister, Nancy Brinker, promised Komen to do everything she could to rid the world of the disease. In 1982, Brinker founded the Susan G. Komen Breast Cancer Foundation which
is currently known as Susan G. Komen for the Cure.
Only about 20% of the funds actually go towards research. Most people are unaware of the fact that not all their money is going towards research.
SGK is know for Race For the Cure.
BRA COUTURE
This fundraiser supports cancer patients who cannot afford their cancer supplies such as medications, treatment or wigs. While they focus on breast cancer, they raise money for all cancer.
Bra Couture is known for an annual event held for breast cancer survivors, who get to model various bra designs
to celebrate winning their battle over cancer.
About 50 bras, designed by family and friends of survivors, local artists, celebrities, and volunteers, are featured in the event.
NATIONAL BREAST CANCER FOUNDATION
Founded in 1991 by Janelle Hail, after she beat breast cancer, NBCF started to grow
into one of the largest foundations in America. The ultimate goal of NBCF is to help and inspire people dealing with breast cancer.
NBCF is known for Beyond the Shock, National Mammography Program, Patient Navigator Program, Breast Health Education and Breast Cancer Research.
Felicity Wenger // Staff Writer