Christmas in Germany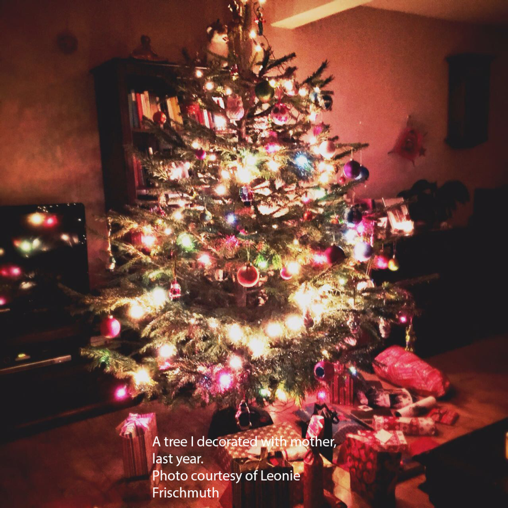 When we celebrate Christmas:
Germans don't celebrate Christmas on the 25th of December like Americans. For us Christmas day is on the 24. We put our Christmas tree maybe only four or three weeks before Christmas in the living room.  Every family has their own tradition, but most families go to church in the afternoon and watch the play from the kids, where they play the story before Jesus' birth. After church most have a big dinner and after this, we open presents. We have the first and second Christmas day (the 25th and 26th). Some families meet on these days at home and have lunch or dinner together or other families go to a brunch in restaurants.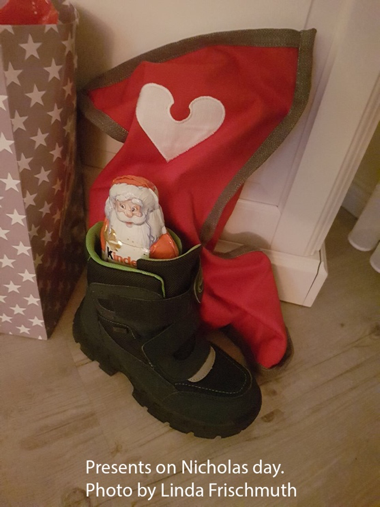 What we eat: Americans typically eat turkey, but for us we feast on goose or duck with red cabbage which is a typical meal.
St. Nicholas day:
December 6 is St. Nicholas day. The main part of St. Nicholas day are the candies and small presents. But when you want these, you have to clean a pair of shoes. When you wake up in the morning, you have your goodies in your clean shoes. For example; some chocolate, walnuts and tangerines. This day is not as big a celebration as Christmas; Christmas is the holiday with family dinner, church and the big presents.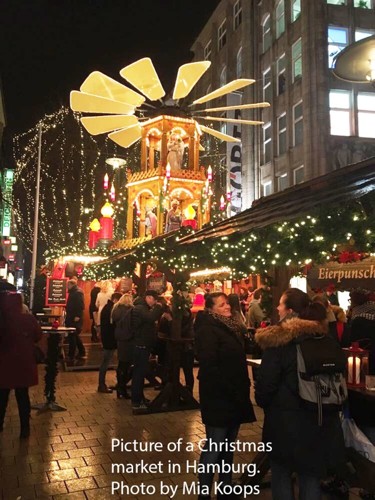 Christmas markets:
My favorite part of the Christmas time in Germany are all the Christmas markets. There are many stands where you can buy different things. Most of the cities have their own market and bigger cities often have more than only one. The whole market is decorated with lights and you can hear Christmas music and carousels. In my city somebody dresses up as Santa Claus and flies over the market, which kids love. A must have for every trip to the market is Schmalzgebäck it's a dessert like mini donuts with powdered sugar. The typical drink is Eierlikör it's similar to eggnog only with liquor. Another drink is mulled wine, made with red wine (or without alcohol) along with mulling spices. We drink it hot or warm.
On traditional Christmas day:
In Christmas morning, my mother and I decorate the Christ       mas tree and hear Christmas music which takes quite a bit of   time.
For lunch, my grandparents come to our house and we eat baked apple with marzipan, raisins and hot vanilla sauce what my mother and I made. In the afternoon we all go to church and watch the play, my favorite part, because my best friend is also in the church. This I love because it's not too boring and every time really funny.
When we come home, my mother and grandma prepare the food and the Christmas tree. My grandpa and I go for a walk with my dog and search for Santa Claus. This has been a tradition since I was really little. When I was young I thought we can find Santa Claus on his way from house to house, and after our walk I find all the presents under the tree and thought I justed Santa.
Our food is different every year, and I hate to see all the presents under the tree plus not open them, but I have to wait until everyone finishes dinner. We, don't open all our presents at the same time. Sometimes we sit two hours together on the table and open presents. We have a cube and every time when someone roll a six, then this person can choose a present under the tree and give it to the right one. I really like it, that we do it like this, because then we have more of Christmas.
On the first Christmas day, I am at my father's house. We meet some family members and eat together. On the second day is my favorite thing, because we go with the whole family to a restaurant and have a big Christmas buffet. Christmas is all about family, presents and food.
Leonie Frischmuth // Senior Staff Writer