Hallmark Horror
The Heart of TV produces yearly love stories without a single twist. Every family-friendly movie tells the tale of a lonely girl searching for the perfect man, surrounded by fellow white actors. On the off chance a minority actor earns a part, their character is a mess of stereotypes. The token black friend's presence gives Hallmark a tiny pat on the back, and an angry Asian adds one more thumbs up to including everyone. Rare LGBT representation at least attempts a step into this century. Hallmark must stay "family friendly" after all. Let the viewers ignore the fact a man lost his wife or parents. Death is obviously more appropriate than accurate and relatable love stories.
In a traditional Hallmark movie, a struggling character stumbles into the arms of their love interest, following the path on a snowy street, relaxing in a warm diner, or while shopping for the same Christmas tree. The two fight innocently until a tiny child whines the battle to a close. The couple-to-be meet again and again, until finally the child convinces their parent to plan a date with this mysterious stranger. Drama takes over the cast when a previous lover or jealous competition returns to sabotage Hallmark's protagonist, viewers begin to question the happy ending promised. Then, in the blink of an eye, the truth comes out and a cliché kiss ends the film. Next on the Hallmark channel, the same plot with different actors and a dog. Stay tuned!
Only two Christmas movies dare to defy Hallmark's lack of diversity, and they give viewers false hope.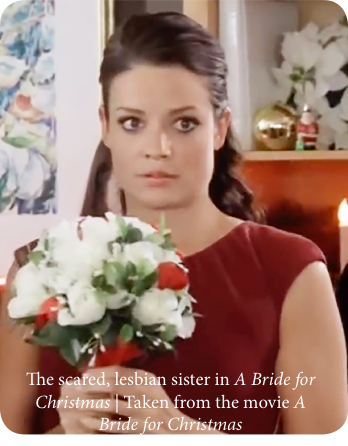 In A Bride for Christmas, a happy love story turns from cheesy to cringe-worthy. A runaway bride breaks off her third engagement, only to marry a man after four weeks of knowing him. Her family supported their union more than any man she ever dated, fully understanding the woman's rash decision. Her husband, however, pursued his bride on a bet. The gambler forfeited to avoid betrayal as he began falling in love. Diversity, as promised, allowed a lesbian character an insignificant role. Twice, the bride's sister addresses herself as gay, yet has no effect on the plot. While at least present, Hallmark kept their minority out of the spotlight.
Enchanted Christmas, a new Hallmark "original" movie, stars married actors falling in love on screen. Carlos PenaVega plays the dancing sensation Ricardo Archuleta. He abandoned his wife's character, Laura, in order to chase his dream. Hallmark's website describes Ricardo as a high school sweetheart turned salsa instructor to Laura's daughter while imbd.com claims he performs at a benefit in town with Laura after losing his previous dance partner. Perhaps viewers assume the PenaVegas starred together to make an even happier ending, as the couple fell in love on and off screen. Out of all movies, every possible cliché Hallmark produced, Carlos PenaVega's character was exclusively a dancer. While an American actor, he seemed to play into a few Hispanic stereotypes, even only in reviews. Dancing and abandonment are two stereotypes Huffington Post says media should eliminate.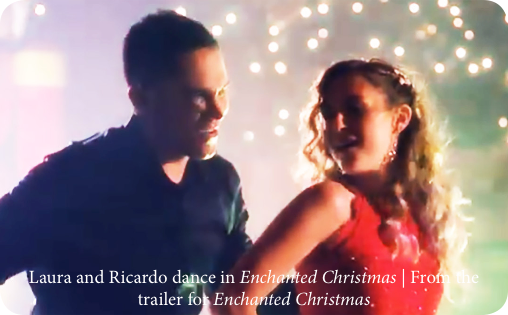 Hallmark's reputation never falls short. The sappy, repetitive storylines create an escape from reality through rose-colored glasses. Viewers cherishing a cheesy movie where all is right in the world likely rarely complain. This fantasy builds unrealistic expectations of society. People can and will hurt each other, and some take significantly longer than a week to meet their true love, assuming they even look for one. Everyday life might feel better with flowers and chocolates, diamond rings and decorated trees, but life is bitter. Seeing characters overcome a real challenge and still finding a happy ending might feel more rewarding than one magical kiss under the mistletoe.
Hallmark must overcome its own struggle to avoid stereotypes and producing realistic lives.
Ryan Smith // Online Editor