How the Seniors Got Screwed Over
Seniors experience unexpected problems that may taint their last year at Olathe East.
The 2017-2018 school year seems, to the seniors, to be defined by disappointment, beginning with the new parking lot situation (due to the loss of a road students experienced a more crowded parking lot). New problems seem to continuously arise for everyone, but have an emphasis on the senior class.
Even prom will look different than it has in years past. In prior years, seniors have experienced prom for free, however, this will not be the case in the 2018 school year. The exact prices haven't been announced yet, but seniors should prepare to empty their wallets.
The fault doesn't fall completely on administration, however, as Senior Class President Sameena Hameed explained. Usually, during a student's junior year, volunteer work for concessions at different sports games is highly encouraged to accumulate funds necessary for events the following year.
"Our class didn't do enough of those to raise enough money as some classes have done in the past, so we do have a little less money than other classes," Hameed said.
"Students need to keep in mind Stucco wants to put on an unforgettable prom and they need funds to do that and you don't realize the money that they can raise, for use in other ways all for things that go towards students," said Assistant Principal Frank Bell.
Is the memory of prom worth the extra cost? In anticipation of greater, unavoidable costs in the future- such as college- this choice is complicated.
"[Seniors] are not asking their parents for money anymore; it's their own, and it can be a harder choice," Bell said.
"I am sorry it is happening, I know that it sucks and it's not what most people are expecting and wanting but there's not really a way to get around it," Hameed said.
Although different than last year, prom is still expected to be a positive memory for the senior class.
"We just want to make it a priceless memory. And there are ways to help students if necessary. I think we can guarantee a great experience," Bell said. "You can't put a price on it."
The other major disappointment for the senior class is the absence of MacBooks. All students at Olathe East were expecting to receive personal MacBooks in the second semester of this school year. This did not become a reality.
"I don't like how they keep promising things but never follow through with them," senior Emily Verrill said.
This decision wasn't made by East administrators, however.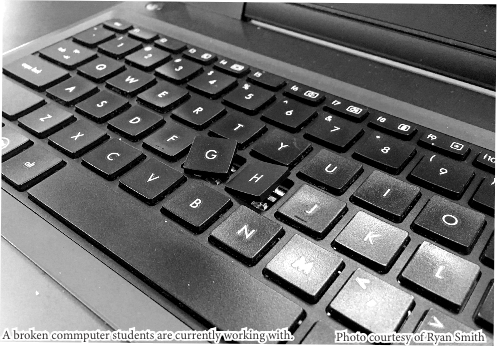 "We were excited about [receiving MacBooks]. This wasn't a building decision, but it was a district decision. The IT department of the school district wasn't quite ready to issue them," Bell said. "I feel sorry for the seniors as they didn't get MacBooks, but it's probably a good thing with just all the mistakes and kinks to be worked out. Hopefully, it will be ready to roll next school year."
Seniors may feel that they were cheated out of this experience.
"In seriousness that's immediately who the administration thought of: the seniors," Bell said.
"I am kind of sad that we're not getting that exposure," Hameed said. "Especially expecting that that is how college is going to be, it would have been good to get some experience in high school."
In many ways this year seniors seemed to have been dealt a bad hand in their last year at East. But these setbacks don't have to ruin a student's most memorable year.
Routine can be helpful, especially in the last semester of high school. MacBooks, with all the problems that are still needed to be solved, could have been more of a burden than a blessing.
"It may have been confusing for teachers to get around in the system as it usually takes a couple semesters to learn. So it may have deterred the last semester of our senior year, even if it did give us experience," Hameed said.
In reality, seniors have one semester left before high school will be just a memory. Despite the misfortunes, seniors will triumph in May when they walk to receive their diplomas.
Mychaela Burris // Senior Staff Writer
Esther Rose // Staff Writer