Marching to the Beat
Alto horn in hand, performance uniform on, Junior Kristin Gjovig stood ready to march for the Salvation Army band in the 2018 Tournament of Roses (Rose Parade) in Pasadena, California on Monday January 1, 2018.
Each year, the Salvation Army sends two young adults, one male and one female, from each state. The Kansas music coordinator for the Salvation Army heard that Gjovig had been playing for most of her life, and he thought that it would be an excellent idea to ask her to play in the Rose Parade.
"[The opportunity] was something that came up and it wasn't really anything that I thought about before; you don't really think about being in a parade. Once I got there I was like 'this is going to be really cool,'" Gjovig said.
She had never imagined an experience quite like the one that awaited her in California. Nervous she would have to leave her family December 27 and come back on the second of January to participate in this occasion, Gjovig was up for the adventure.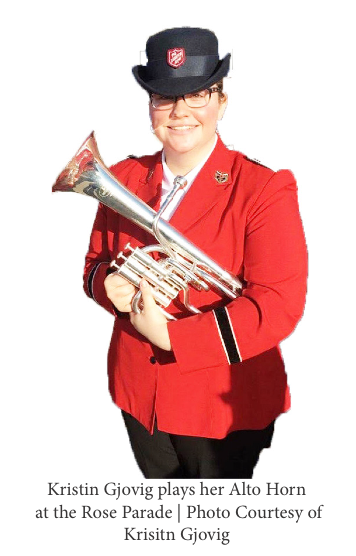 The band had two morning rehearsals once everyone arrived at the camp. They also had a marching rehearsal which took place on a college football field, a few days before the parade. Gjovig also visited Hollywood and the Walk of Fame along with other sites in California, as a part of her experience.
"It was like a little treat for coming out to play for them in the parade," Gjovig said.
The Salvation Army paid for her trip and provided accommodation at the Salvation Army Summer Camp in California. She also knew the other Kansas participant from the Salvation Army Summer Camp.
After people from all across the United States, Canada and Angola Africa arrived, the band would be ready to rehearse. Gjovig enjoyed meeting new people, some of whom were not fluent in English.
"The Angola band speak Portuguese and actually if you speak Spanish to them they can understand it well. We also had a person who worked there that was a translator for giving them instructions," Gjovig said.
The night before the Parade was New Year's Eve which took her away from celebrations. However, she managed to have a ball getting to ring in the New Year with the other band members.
"They took us bowling and that was really fun; we got to bowl with different people and play games and then they took us back to the camp. They had set up a little party place with food, and drinks, a photo booth, and poppers, and everything," Gjovig said.
Throughout the night everyone helped the others celebrate the New Year.
"I thought it was really fun though because we clapped and cheered for every midnight for different people so the ones from New York and Florida we all cheered together and that was really fun," Gjovig said.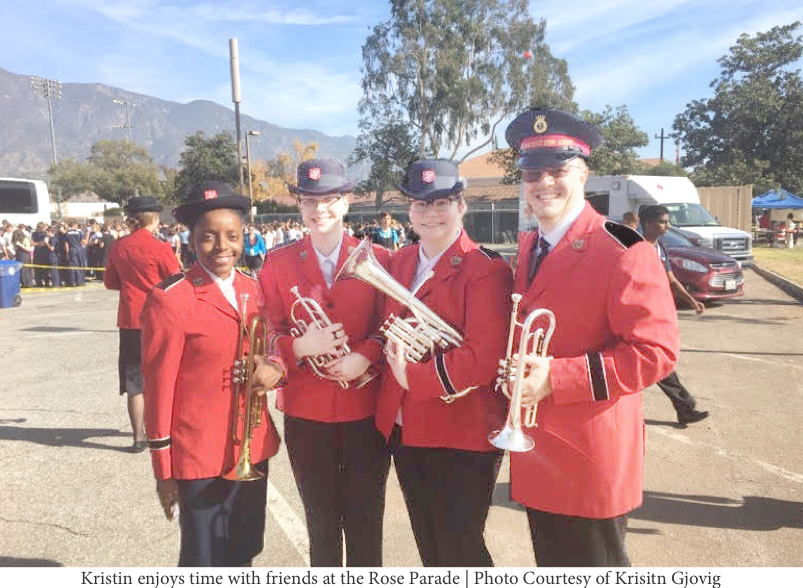 Gjovig started the day of the Parade by waking up at 4:30 am. After having breakfast at 5:15 am all the band members left to go to the parade at around six am. The members were dropped off at a specific location due to the parade route set up; the bands march on one street and the floats proceed down another, alternating each other in a pattern. After warming up, they were ready for their big moment.
"It definitely went by faster than I thought because I was just pumped on energy from the people, because you have people all on the side cheering for you and they are like 'Salvation Army, thank you' and you get to wave and everything," Gjovig said.
Gjovig was thankful for this amazing opportunity and was thrilled for the experience. There is no doubt that she had a wonderful time getting to perform at the 2018 Rose Parade.
Melanie Eszter // Managing Editor