To All the Fans of Noah Centineo
The movie that has taken over social media, started as a novel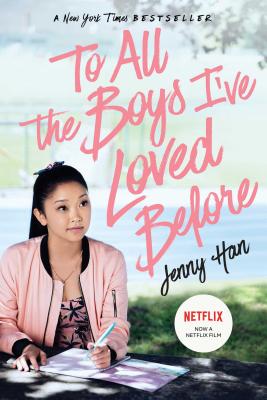 To All the Boys I've Loved Before, a coming of age novel, follows the life of shy, quirky Lara Jean (Lana Condor). Lara Jean has written "love" letters to all the boys she has had a crush on. The letters were hidden in her room but mysteriously get mailed out one day. Lara Jean does not know how to handle the pressure except to begin fake dating one of the recipients: Peter K(Noah Centineo). Peter had just experienced a messy break up and Lara Jean needs a fake boyfriend to cover up her feelings for Josh(Israel Broussard), her sister's ex- the perfect reason to get together. To All the Boys differs from other teen romances because Lara Jean and Peter were not trying to change each other; they accepted each other as they were. Both of the teens were supported by their families and friends; unlike many similar movies where the relationship is kept a secret to spare someone's feelings. To All the Boys does have cliché of the "jock" falling for the quiet girl to be expected in a teen movie.
 To All the Boys I've Loved Before dropped on Netflix August 17. Since the initial release date, the movie has made a name for itself by earning a 95% approval rate from Rotten Tomatoes. Meanwhile, The Kissing Booth -also a teen romance movie- received a 13%. Buzzfeed titled To All the Boys I've Loved Before "this generation's 16 Candles". Sites POPSUGAR, Teen Vogue, and ELLE can not get over Lara Jean's vintage style- she sports a perfect mix of Rachel Green(Friends) and Cher Horowitz'(Clueless) fashion. VSCO, Instagram, and Twitter exploded with users raving about how every girl "needs their Peter K." Not only is To All the Boys a classic Rom-Com, but the Asian community appreciated how well Lara Jean and her sisters' Korean culture was represented. In August 2018, Hollywood released three movies with Asian leads-"To All the Boys I've Loved Before," "Crazy Rich Asians," and "Searching"- earning August the title #asianaugust.
Before the groundbreaking movie was released, To All the Boys I've Loved Before came out as a book in a New York Times Bestselling novel trilogy written by Jenny Han. The series includes To All the Boys I've Loved Before, P.S. I Still Love You and  Always and Forever Lara Jean. Each novel would be considered a "beach read" or a "cheesy Romantic Comedy." The film corresponds with the first book in the trilogy. The book allows reader to understand details from Lara Jean's point view. Lara Jean struggles throughout the novel with her homelife as well as her school life. In the book Lara Jean does not know how to be the big sister Margo(Janel Parrish) was, she doesn't know how to deal with her feeling for Josh, and she doesn't know how to cook for her family. The movie does not show Lara Jean struggling with her home life in the same way the book does.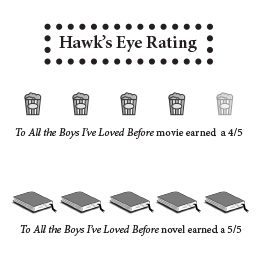 There is no doubt that Lara Jean and Peter are a perfect couple in both medias however why the couple got together is different in the movie. In "To All the Boys I've Loved Before" novel Peter wants to move on from his ex girlfriend Gen(Emlijia Baranac), while in the movie Peter agrees to "date" Lara Jean to make Gen jealous of his new relationship. Throughout the novel, Peter is always late to take Lara Jean along with her sister, Kitty, to school, causing Lara Jean to become annoyed. In the movie, Peter only picks Lara Jean up once and is abnormally on time, readers were upset to see this because upset Lara Jean always had the best comebacks at Peter for being late which always add a fun element to their relationship. Peter and Lara Jean have many deep conversations about their families, friends, and future, these conversations were not present in the novel but readers enjoyed seeing Lara Jean and Peter connect on a deeper level, like a real couple throughout the movie. Sophomore, Angela Davkovska "wished the movie had more details like the book and would love to see a sequel."
—Libbie Carter, Staff Writer