Who's Balling this Fall?
A look into East's 2018 fall sports
Football:
After a 5-5 finish and a state loss to the eventual state champion, Blue Valley North, the football team comes into the 2018 season looking sturdy despite losing past seniors Ryan Brockschmidt, Henry Carranza, TyJuan Lewis, Cameron Mitchell-Johnson, Cade Wilson,
Joe Colwell, and Brandon Fox. Head coach Jesse Owen said "They were all really good leaders, kids who did all the right things and lead by example." Two preseason power rankings has the team ranked #7 in Kansas and #15 in KC Metro. The season opened up with one of the team's biggest game this season  against Olathe North on Friday, August 31. Unfortunately the team lost 49-20. "I think we have the ability to be a pretty formidable team." said Coach Owen on his expectations.
Rivalry Game: Olathe South 10/19
Players to Watch for: Hunter Thomas (#3), Tre Carney (#35), Josh Jamison (#33)
Men's Soccer:
Last season, the soccer team finished 13-2-3 a stellar record but fell short in the regional final to Blue Valley West. The team lost seniors Andrea Rizzi, Luis Torres, Selvin Pena, Luke Stuewe, Jack Lewis, and Tanner Webb. Even with these losses, the team has managed to go 3-1 so far, including a win in one of their biggest games this year, the opener against Olathe Northwest. "Continue to improve every game, and work hard in practice." said Coach Terry Hair on what he expects from the team in order to find more success this year.
Rivalry Game: Olathe South 9/13
Players to Watch for: Aspen Gibson (1), Parker Esparza (13), Tanner Smith (5), Anthony Flores (11), John Fitzgerald (2)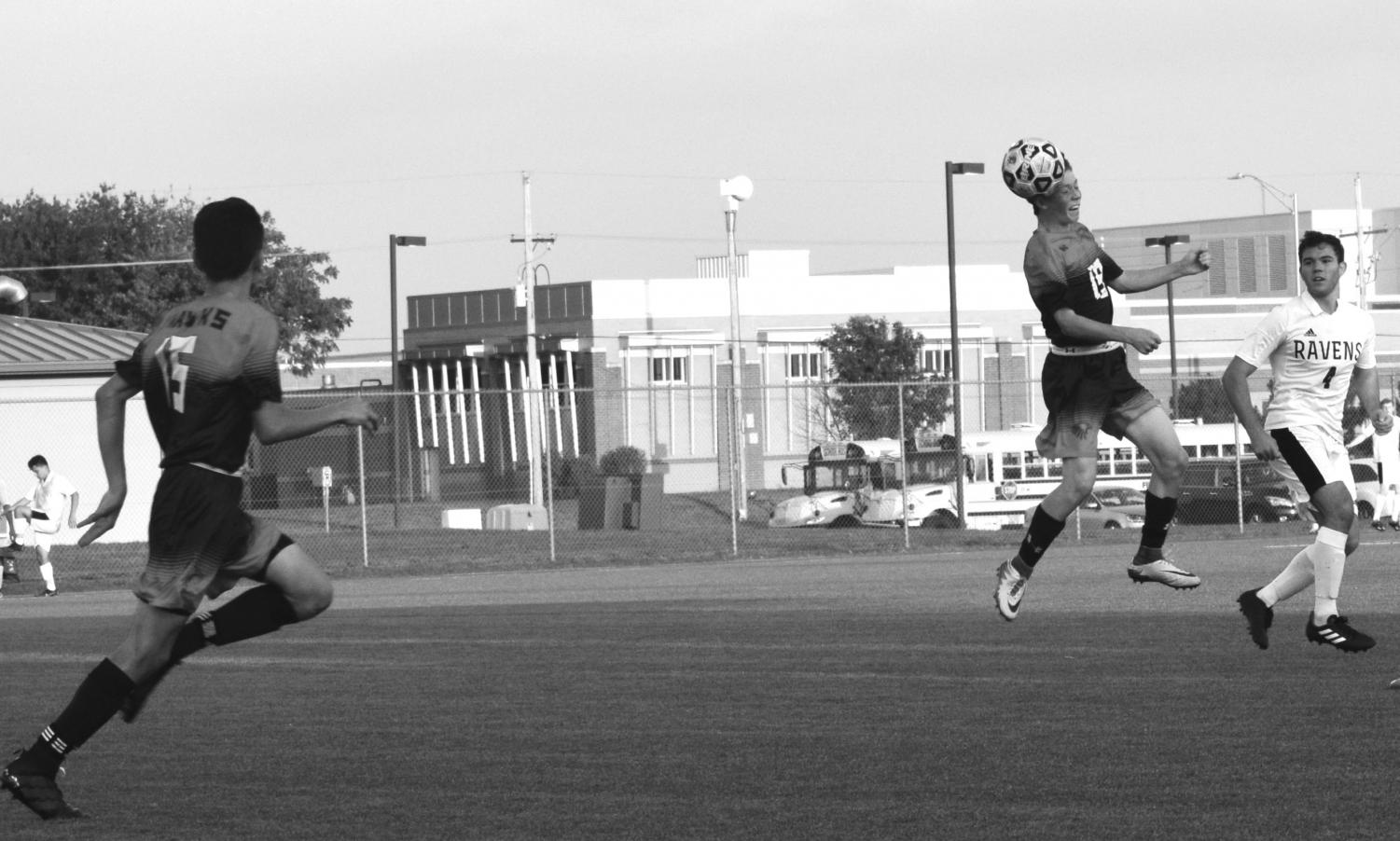 Cross Country:
Last year, the boy's cross country team finished third in state while the girls team's season ended after placing fourth in regionals, one place out of going to state. Varsity has many returning runners besides one key loss, Adam Kahnk, now a runner at Pitt State. Head coach Anthony Bozarth believes the team should have just as much success as previous years, "We expect you to work to become the best student, the best runner and the best person you can be," he said
Biggest Meet: Regional/State 10/20 & 10/27
Runners to Watch for: Boys: Bryce Kaufmann, Connor Young, Jacob Vermillion Girls: Melody Ochana, Elissa Hernandez and Allison Weishaar
Volleyball:
After a rough season filled with injuries, the volleyball team aims to bounce back and compete at a high level. The team lost seniors Cali Silvers, Jami Kreps, Maelee Abu-Saada, Annie Knapp, Lily Johnson, Kailea Carrier, and Emma Billings. Hopefully the volleyball team can come back this year and earn their spot in state.
Rivalry Match: Olathe South/Olathe North 9/18
Players to Watch for: Rebeka Kedrovsky (4), Kathryn Kutscher (3), Morgan Matthews (13) Kaitlyn Blasi (5)
Women's Tennis:
Coming off of head coach Patrick Lenz's first season with the team, the Lady Hawks Tennis team is looking to exceed last years finish where now-senior Michaela Magee went to state for singles and sophomores Hali Liu and Megan Li were a doubles team who made it to state. They are retaining all varsity players which will definitely help. "I'm making my expectations really high. I want to get all six varsity players to state" Coach Lenz said on his expectations for the upcoming season.
Biggest Tournament: Sunflower League Meet 9/20
Players to Watch for: Michaela Magee, Julia Brinks, Hali Liu & Megan Li (Doubles), Olivia Rance and Haley Cruise (Doubles)
Women's Golf:
The women's golf team had three golfers make it to state last year but lost one of them, senior Anna Whitehead. Other senior losses include Kylie Durham and Shelby Cope. The golf team, led by head coach Kevin Saunders, looks to guide even more players to state this year while also making memories and having fun.
Biggest Meet: State 10/15
Golfers to Watch for: Caleigh Scott, Jordyn Jenson, Claire Johnson, Gracie Davis, and Reagan Holmes.
Gymnastics:
The Olathe East gymnastics team had a marvelous year, finishing second in state. The team looks to build off this success and finish the job by winning state this year. However the loss of senior Katie Wingate will hurt, but head coach Mallory West is still confident "All of our gymnasts are highly talented and will be able to contribute to the team" said Coach West. The gymnastics team will look to bring a state championship to Olathe East on their biggest meet of the year, October 10 at Shawnee Mission South.
—Robert Munch, Staff Writer