Season to Spice Things Up!
The best variations of our favorite fall foods, reviewed by the Hawk's Eye
As leaves turn auburn and temperatures drop, a new season falls upon us. Autumn means it's time to prepare for the holidays, and nothing brings people together more than indulging in the season's festivities with food. In these next couple of months, treats bring those we care about together.
As peppermint is to Christmas and chocolates are to Valentine's Day, pumpkin spice serves as a fall fundamental. Something once reserved strictly for pie has exploded into all sorts of delectable delights, like a cult coffee drink and an ice cream flavor. And for those ultimate pumpkin spice lovers, t-shirts, blankets, and other novelties have become a household necessity. Love it or hate it, this flavor has now become an autumn staple.
Some establishments gain an increase in sales when pumpkin spices up menus. Starbucks, home to Pumpkin Spice Lattes and other treats of that sort, benefit greatly from their limited-time specials, according to a barista at Starbucks. No surprise either, everyone should try this drink.
Despite popular belief and its name, pumpkin spice is a mixture of a variety of spices: ground cinnamon, ground ginger, nutmeg, allspice, and cloves. Many retailers, such as Trader Joe's and Target, sell premade pumpkin spice seasoning, offering a phenomenal way to impress your family with your festive baking skills. But for those who don't fancy baking, many chain cafes and bakeries sell wide arrays of limited edition pumpkin goodies.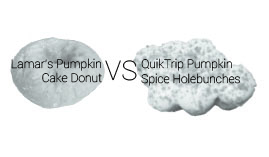 During the month of October the Hawk's Eye set out to find the best pumpkin spice donut around, working under a time crunch, the Hawk's Eye found two locations near by carrying pumpkin flavored donuts, Lamar's and Quiktrip. The Lamar's pumpkin spice cake donut was an out-of-body experience. From the first bite my mouth was flooded with the flavor of fall, the perfect balance of pumpkin and spice. The glaze was sweet, sticky, but not too thick. A warm apple cider would have been the perfect partner to this decadent donut. Lamar's offered a version of the donut with cream cheese frosting that would have been exquisite.
The QuikTrip holebunches were a complete 180 from the cake donut. From first bite, the donut was a instant failure. The bread resembled that of a stale hot dog bun, with the frosting showing to be no help to it is dry, bland flavor. The pumpkin was only apparent in a crunchy crumble on top of the frosting. It tasted quite processed, and added odd, unnecessary texture to the treat. A dog wouldn't even have enjoyed this donut! QuikTrip needs to make some serious changes to their so called "pumpkin" donut. Between the two of these donuts the Hawk's Eye decided the Lamar's pumpkin spice cake donut took gold by a long shot, being moist and sweet with perfect ratio of pumpkin spice.