Flippin' Fantastic
In 2017, the Olathe East Gymnastics team fell just short of finishing an undefeated season bringing in their third straight state championship. Instead they placed second at state which stung the team that knew they could have won. East knew they would have to forget the past and prepare for next year; and with many gymnasts returning, the team knew they would still be able to win a championship.
"We used last year's second place state finish as motivation to pull together as a team" said head coach Mallory West.
On October 20 at Shawnee Mission South the Hawks proved they were not fazed at all from last year's result as the job was finished by bringing home East's eighth total gymnastics title and third in the last four years.
"It was very special to win state this year; this season was incredibly rewarding as a coach," Coach West said about the experience.
Olathe East continues their gymnastic domination as they have more Gymnastics state titles than any other sport at the school. With this success and the past years of winning, this year was deemed as a "championship or bust" for the team and they came through when it mattered.
"It was amazing to finish like that," said Alyssa Penn.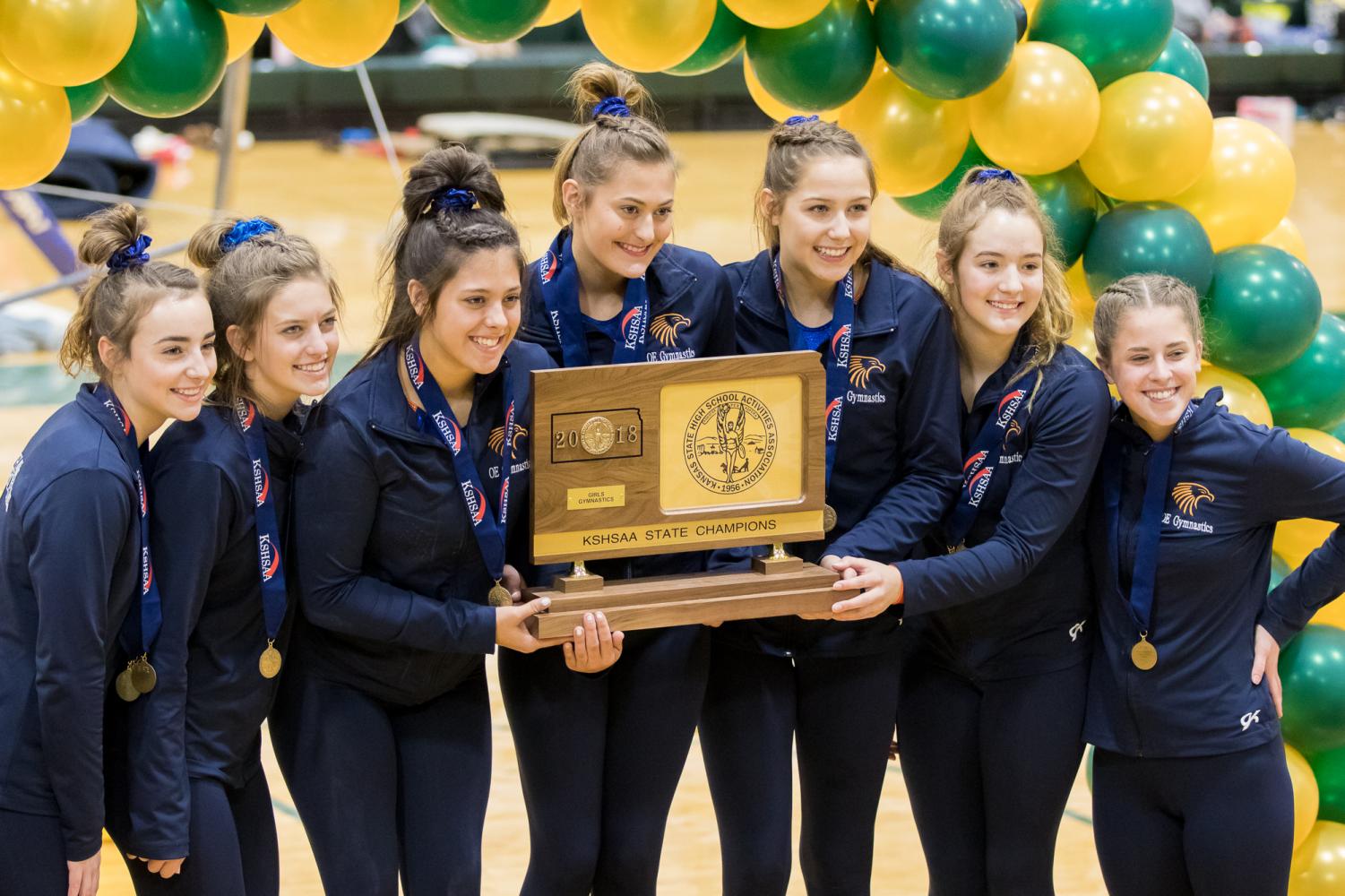 The roster was made up of 11 gymnasts. (see below).
Alyssa Penn (12)

Kirsten Stokes (12)

Makenzie Krug (11)

Kelsey Meyer (11)

Anna Vogel (11)

Liz Wasinger (11)

Payton Hosier (10)

Jasmyne Miller (10)

Heidi Penn (10)

Hannah Brown (9)

Maddie Smith (9)
Olathe East finished with an accumulative point total of 105.15 which was about two points above the runner-up, Lawrence High School. The Hawks dominated the beam championship with junior Liz Wasinger winning it with an average score of 9.35 and fellow juniors, Anna Vogel and Kelsey Meyer placing second and third respectively.
The same three gymnasts finished 2nd-4th in the all-around competition, Vogel at second, Meyer at third, and Wasinger at fourth. "It was a really good season for all of us," stated Liz.
The win was particularly special for senior Alyssa Penn. Alyssa has been competing since she was three and has spent two years competing for East as a junior and senior, making this her first state championship. As an upperclassmen and one of the few seniors, Alyssa knew she had to take on a leadership role, which she was perfectly comfortable with.
"We expected to come out on top just because we knew we were capable of it" said Alyssa on the team's expectations. This year was sadly Alyssa's last as she will not be continuing her gymnastics career into college due to knee problems.
"I never expected to have such a good ending to my gymnastics career," she said.
With many gymnasts returning next year, several being upperclassmen, the gymnastics team will look to repeat next year in state. Although, this will not come easy and the gymnasts will need to strengthen up in the offseason if they want to continue this East gymnastic dynasty. "Winning again, and doing even better than this year hopefully" said Wasinger on her expectations for next year.