Goodbye's & Hello's for East Athletics
        Jim Super has remained as Olathe East's Men's Varsity Basketball coach since Olathe East was established in 1992, until now. After 27 years at East, Coach Super has decided he will retire from coaching and teaching. While this may be Coach Super's last year coaching, it will be the first year of being a head coach for Algebra and AVID teacher Blake Iles. Coach Iles has only served East's baseball staff for a year as an assistant but now he gets to step up to the plate as head coach.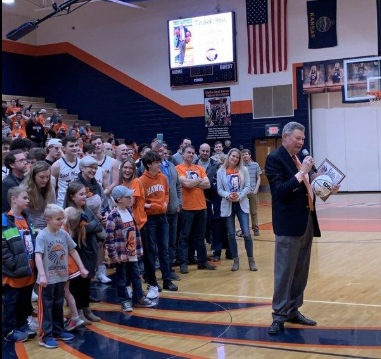 Jim Super played basketball in high school and in junior college before starting his coaching career at Washington High School in Kansas City, Kansa. He then entered the head coaching role at Olathe South until East was established, coaching 27 years with a grand total of 45 years. Coach Super's only state title came in 1998 with 11 Sub-State titles as well.
Coming into the year, this season looked no different than any other for East's Varsity basketball players. The team finished with a regular season record of 12-8 before the season changed for them. Before East's first Sub-State game against Leavenworth, a Facebook post by one of Jim's colleagues broke the news of his retirement. Super, not wanting to have announced this news until after the season, took the next game in stride and treated it just like any other. The rejuvenated team went on to beat Leavenworth in a blowout, 75-40. However, Coach Super's final career game ended in a loss; a triple overtime heartbreaker where they fell to Olathe South 59-63.
"Every year has favorite parts to it… for me it's the players from start to finish from all 27 years that's been fun to be around," said Super.
Looking back on his career, Super obtained many achievements and his state title, and while that's every coach's goal, Jim focused on more than just winning. Super looked to develop his players into great men and players, one of the many reasons why people appreciated Super as much as they did.
"It's that moment when you see a player finally figure it out. It's nice to watch them grow into adults and see how they've changed," said Super
Super retires as one of Olathe East's icons and will forever be thought of when remembering East basketball.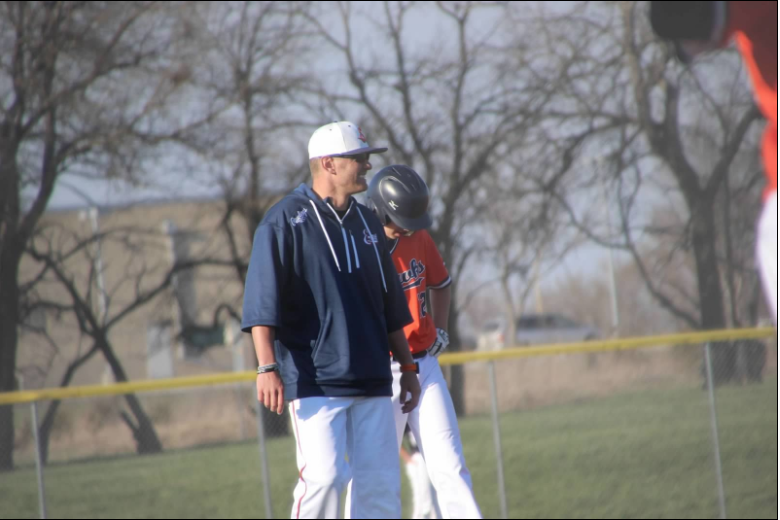 Blake Iles, baseball coach for 13 years, spent time coaching as an assistant in Marysville, a head coach of a summer club team and as a junior varsity coach at Olathe Northwest before coming to East to coach JV for one year. Now in his second year, Coach Iles takes the reins as head coach of Olathe East Baseball.
Coach Iles takes the place of former East Head Coach John McDonald, bringing in his own new style that he states is based off of former coaches and the American Baseball Coaches Association (ABCA). One colleague that's been a primary mentor to Coach Iles is Dale Reed, who Iles has added to the Olathe East staff with him as a pitching coach.
"The amount that he has taught me about communicating with players, with kids, with college coaches and overall running an organization," Iles said on how much Coach Reed has helped him.
A major part of coaching for Coach Iles is communicating with players. Coach doesn't just want his players to be admirable at baseball, he wants them to be leaders, admirable people and teach them life lessons.
"You have to look past the baseball aspect; in five years, they won't remember the wins or losses, they'll remember the bonds and teammates they had," said Iles.
When It's only your second year coaching at the school, and first being a head coach, the job can be overwhelming. There's many things to worry about with business, other coaches, games, and trying to teach the same day. With all this in mind, Coach Iles remembers to "slow down and enjoy the game" and remember what baseball is all about: fun.
"I think you have to have your players adapt to your style and the culture you want to build but then modify your game plan to maximize their strengths," Iles said on his style
Congrats to Coach Super on his retirement and good luck to Coach Iles in his inaugural season.