OE competes at Schülerkongress
The annual State German Competition was held on Saturday, February 22, at the K.U. campus in Lawrence, Kansas, and is sponsored by the Kansas Association of Teachers of German.  Approximately 150 students from across Kansas took part in the event, and Olathe East participants won many awards for their performances:
Kathleen Chia and Myles Benefield won first place for their poster entry, and Megan Li and Hali Liu won 2nd place for their video entry.  These two events were focused on the theme of the day which was "Deutsch lernen: Du bist dran," meaning "Learn German: It's your turn."  Students who won medals for their poetry and/or prose performances were Li, Liu, Benefield, Chia, Alli Stanton, Alethea Miller, Skyler Hutton and Ciara Person.  Participants receiving ribbons for their performances in the culture quiz and museum scavenger hunt were Kaylee Schlein, Carter Stanley, Li, Liu, Person, and Stanton.  The event was rounded out with opportunities to converse with "Sprachprofis," who are native speakers or university students of German.   This annual event is a fun and rewarding experience for German students.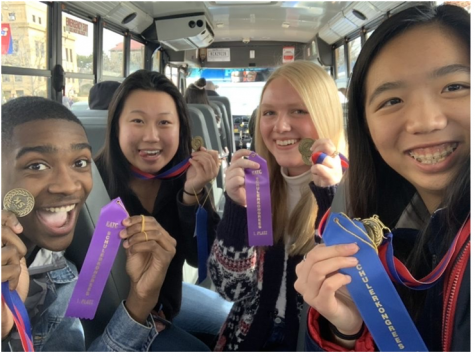 From Left to Right: Myles Benefield, Hali Liu, Alli Stanton, and Megan Li