Olathe East Choir Students Visit Holocaust Exhibit

Olathe East choir students of all grades visited the Auschwitz exhibit at Union Station on Wednesday, Sep. 22. 
The temporary exhibit includes more than 700 artifacts from Auschwitz, the largest Nazi death camp during World War II, as well as testimonies from survivors. This is the first traveling exhibit about the camp. 
For students, attending the exhibit taught them a lot.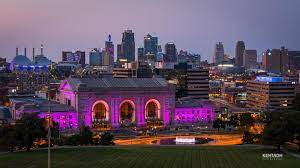 "I didn't realize how their [people imprisoned in the camps] humanity was stripped from them, both literally and figuratively," junior Abbie Ribbing said. "I saw smiling faces not knowing they were about to meet their end. I think everybody that can should go and learn about what happened." 
The students attended in preparation for their fall concert, "Auschwitz: Not Long Ago. Not Far Away." The concert features music written about the Holocaust. In between songs, students will read diary entries written by victims. The concert takes audience members through the entire timeline of the Holocaust and ends in a memorial to the lives lost. 
The theme of the concert resonates with the Olathe East Choir students. 
"It is about hope and passion even in one of our darkest times in history," freshman Ben Robison said. Our concert goes over the Holocaust, an extremely regretful and depressing time in our history. Our theme truly is how many still went to seek out hope, even when it felt like there wasn't any. It has opened my eyes in many ways." 
Overall, Olathe East choir students hope to bring awareness to the horrific events of the Holocaust. 
"We can never forget that this happened. If we are educated, then we can prevent something like this from ever happening again," junior Kris said.
Olathe East Choirs will present "Auschwitz: Not Long Ago. Not Far Away." for free admission on Tuesday, Oct. 12 at 7 p.m. in the Olathe East auditorium.