New Information Revealed In Elmore Hearing
19-year-old Jaylon D. Elmore, a former student at Olathe East high school, has pleaded not guilty on all charges  in connection to the shooting incident that took place last March.
At the preliminary hearing, which took place last Monday, Prosecutors say Elmore shot at Erik Clark, Olathe East's school resource officer, and Clark returned fire, injuring both parties, before Clark disarmed him. Former assistant principal and superintendent Dr. Kaleb Stoppel was also injured in the crossfire, which resulted in Elmore, Clark, and Stoppel being sent to the hospital. Elmore spent two months in hospice care after being shot; he has since been held in custody on a $1 million bond.
Both Clark and Stoppel testified at the hearing, taking the stand to describe how the incident occurred. According to court documents, Stoppel said in an interview with investigators that he was alerted by a counselor that they had been notified by a student that "a kid named Jay" had brought a gun to school. Initially, another student was suspected, but after being questioned and searched, it was made clear that Administrators did not have the right person. Assistant Principle Leslie Simons (who also testified at the hearing) then talked to another student who said there was a rumor that Elmore had brought a gun to school. Stoppel and Simons then went to find Elmore, who was in shop class, and escorted him to the office.
Stoppel testified that while escorting Elmore, things started off friendly. Since the two had interacted in the past through sports and helping Elmore work on his grades. But when Elmore was asked to let them search through his backpack, he quickly became defensive and repeatedly said, "I'm just gonna go home."
Officer Clark was then called to the office, and that's when both Stoppel and Simons testified that Jaylon pulled his backpack to the front of his chest, opened his backpack, and pulled out the gun. Photos shown at the preliminary hearing showed Dr. Stoppels office in disarray after the incident.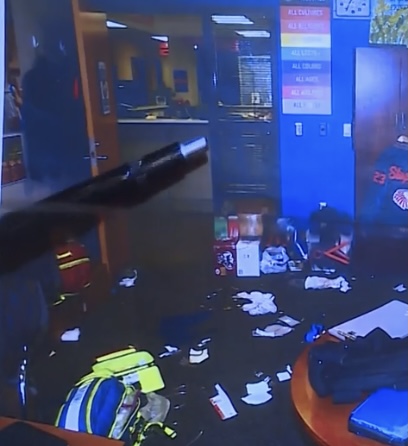 Officer Clark testified that his body camera was hit by a bullet while being shot at by Elmore, so the footage had been destroyed. However, he said the camera might have deflected a bullet that could have killed him.
Elmore's defense raised questions as to why they didn't separate Jaylon from his backpack, and why the authorities were not involved from the start of the situation.
Due to the testimony given at the preliminary hearing, a judge ruled that the case will go to trial. Elmore's next court date is set for April, although a trial date has not been set.