Varsity Veterans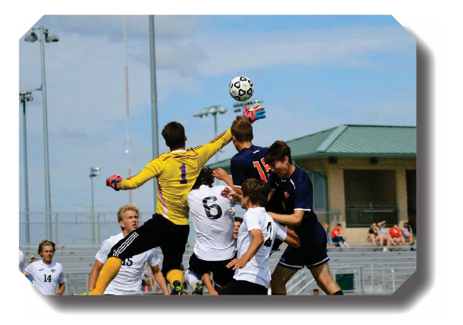 You might be able to catch Ryan Weishaar on the track as he speeds by running the 800 or the mile. Although if you wanted the best place to find him, check the soccer field. Ryan Weishaar is involved in Olathe East's high intensity soccer program where practices can last two hours.
"We enjoy going out to practice every day and it's just a good experience," said Weishaar who began playing around the age of four or five.
"Once I started it I just loved doing it so I never stopped," Weishaar said.
Club soccer was one of the many things that he played for KCSC until the 8th grade. He feels that soccer is something that comes naturally to him.  One of his favorite soccer memories is when he scored the first goal of the season his freshmen year when he played on JV. On the field Weishaar plays midfield as he enjoys passing the ball and set his teammates up to score, making him a real team player.  When he's not on the soccer field, Weishaar runs track and cross country which require much time management to get everything done, but he enjoys doing what he loves everyday. Running has also helped him be more prepared for each soccer season.
"I think I'm always in defiantly in the best shape of everybody and that just helps me stay on the field longer" Weishaar said. As one of the team captains his job is to be the coach on the field.
"If we ever need to talk to the refs or anything like that it always goes through us" Weishaar said.
Leading the team requires patience and leadership skills which Weishaar demonstrates each day. He makes sure changes need to be made suggested by the coach or the other captains. The team has put in many hours this summer that they had not done before. They conditioned more and practiced harder.
"We're just really excited to get one more shot at a state title and see if we can bring one home," Weishaar said.
Weishaar may be sad to be playing his year of his last high school soccer career, but he is glad that he had the chance to play for East all four years.
"I love the coaches I've been around with for four years. I've been able to develop a relationship with them. Some of my best friends also play soccer, so it's really nice just to always be with them," Weishaar said.
Before every game senior Griffin Stone can be found listening to a CD he made just so he can get pumped up and ready for a game.
"At the beginning of the season we wrote our goals up on the white board," said Stone.
The team looks forward to winning regionals and taking home a state title this year. They have previously won the Olathe tournament and look to keep making improvements.
"The season started off pretty good; we're just hoping to keep the success coming," said Stone.
With the some tough competition in the upcoming games against Washburn Rural and Blue Valley North West, this will be the first time in about ten years that varsity will play against Saint Thomas Aquinas.
Stone has been playing soccer since the age of four. He has played for a rec league, Premier and even division one soccer. Although he does not play for club anymore, he has learned many lessons from the game he plays almost every day.
"It's kept me busy and taught me a lot of good things like being a good leader and how to be like a motivational leader and how to stay positive on the field," Stone said.
As one of the captains for the team, he gets to decide what they will all wear to school on game day. He also helps lead the team through warmups. Overall, he makes sure that everyone is doing the right thing on and off the field.
"When you're being a leader, you can't act like you're above everybody. You have to lead by example and that's the best way because the moment you start acting like you're above people, the people that you're the captain of start not liking you, and then they don't listen to you," Stone said.
"All the friends I've made in high school have been through soccer.
All my best friends are on the team," Stone said.
Stone has switched from playing center forward to playing center back.
"Playing center forward I played against center backs my whole life.
It was pretty much doing the exact opposite of what I had been doing for a long time," Stone said.
Stone could not be any prouder of his team for winning the First Team All-State Plus plaque that is located in the athletic hallway. He admires those who have gone on to play in either the Olympics or the MLS soccer league.
"It motivates me to play better; I could be like them if I did my best every game," Stone said.
Before soccer games Shane Kopplin listens to rap music to get his blood flowing so that he can play an amazing game.
He began playing soccer in kindergarten and has played every year ever since. Kopplin went on to play for KC Rush and Sporting Academy which is the KC Sporting affiliate competitive soccer team. Kopplin also referees soccer on Saturday mornings.
"For me personally it's fun to play. Most kids just like that competitive spirit of it but for me, I just like having fun," said Kopplin.
He hopes to one day become a professional soccer player.
"Barcelona is one of the teams I would love to play for," Kopplin said.
Right around game time, he thinks about what he needs to do to let the team win and be successful.
"[Soccer] has done a lot for me. I've formed relationships with a lot of friends Its taught me a lot of social skills, its taught me stuff outside of soccer more in like the life aspect as well," Kopplin said.
Kopplin plays as an attacking midfielder: the attacking position behind the forwards which attack. Kopplin's main goal is to switch the point of attack and connect passes to his teammates to score goals. This marks Kopplin's third year on Varsity, as he did not play freshmen year.
"High school is a completely different atmosphere from club soccer" said Kopplin.
Kopplin thoroughly enjoys the intense high-paced game of high school soccer.
"Friends come out and watch you play; the games are so loud; you get your name called out before the game; it's a really fun experience," Kopplin said.
Whereas in club soccer the players get more exposure to colleges. Club soccer plays the highest level and high school is more for fun.
"They both balance each other out," Kopplin said.
Kopplin's favorite high school soccer memory is when he scored a goal in the championship
"It was the best feeling ever. Once I scored the goal, it was mayhem. It was the biggest experience of my life," Kopplin said.
As a captain he gets to give advice before games and give words of encouragement to all the players to get them pumped up for the game.
"I think we can definitely win the state title this year," Kopplin said.
Chapman first began fostering a love for soccer when he started playing soccer in elementary school.
"I've always enjoyed playing," Chapman said.
As his soccer career advanced, he built an intensive love for the game.
"It's really easy to have fun while you are playing. You can be creative as team player or a solo player; You can just always have fun with it," Chapman said.
Although after sophomore year, he found himself not playing as much as he wanted to and was on the verge of quitting.
"I stuck with it, and it ended up turning out pretty well," Chapman said.
Now not only does he play center midfielder for the East Varsity team, he also plays soccer all year round, playing for East in the fall and for Rush from December to late July.
Chapman plays both offensively and defensively always trying to help the team.
"To really have a good team you have to have a cohesive midfield. It's really working out well this year; We're having a lot of fun."
One of Chapman's favorite East soccer memories was when the varsity team won state during his sophomore year in 2014 season.
"It was good to see all the hard work we put in through the season pay off, it was really rewarding," Chapman said. This is one of the main things that he will miss about East soccer.  "I am definitely going to miss seeing the same people every day; it's a lot of fun, trying to enjoy it while it lasts because I know that sometime soon it's going to be over," said Chapman.
Although collegiate soccer is still a question, Chapman loves being a part of team at East and is thankful for all the Hawk Nation fans who come out to support every game.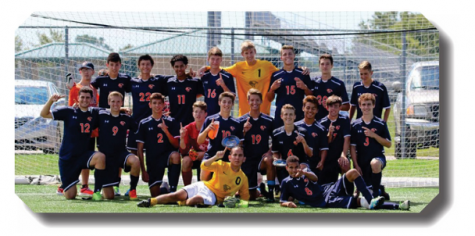 Photo Courtesy of Shane Kopplin
Melanie Eszter // Social Media Chair