"Four – In" Exchange Students
At Olathe East, four foreign exchange students enrolled to attend Olathe East this year. Andra Costiniuc of Italy, Zhenya Ghukasyan of Armenia, and Lauren Idahosa and Nina Rehder of Germany all have come to experience a new culture and improve their English. All the students sat down with the Hawk's Eye and talked about how time-consuming to become an exchange student.
"I failed this program three times. It was my fourth time and I won it. There are three stages. One year I gained one stage. In a year I learned how to pass another stage. If you pass the first stage, you are lucky. It is awful," Ghukasyan said.
"You have to ask a block of questions and applications. You have to pay for doctor. I had to go to Berlin to get my visa, and I had to stay in a hotel. I paid [to come here]. It was very expensive," Rehder said.
According to the four girls, the people in the US appear friendly on first glance, but whether people are actually kind or not is sometimes difficult to see.
"I really like it when I can go through the hallways and someone comes to me and says 'I like your shirt' or 'I like your backpack'. I'll be standing waiting for my mom and at least five people will ask me if I need a ride. In Germany, they would just do that if they know you very well," said Rehder.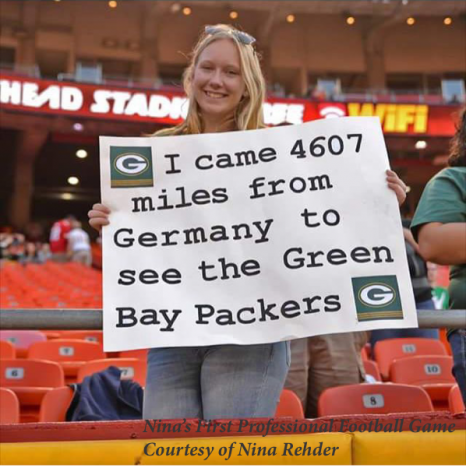 "They seem sometimes ignorant and not to think that they aren't but I have [seen] some teenagers in class and they behave awful. But when I'm talking to them in private, they are [really kind]. So you never know who you are talking with," Ghukasyan said.
"Here sometimes I'll be talking with someone in my class and later I'll see him or her [again] and they don't say 'hi'. They act like they don't know you and they've never met you before," Costiniuc said.
Everyone knows the US is different from most of the world, but many Americans do not know the distinct ways the school systems differ.
"In Germany we have one class for about six years. And, then we have fifth grade to 12th grade. In Germany, the students don't change their classrooms; the teachers change their classrooms. We get grades from one, two, three, four, five, or six. One is the best you can get and six is the worst you can get," Rehder said.
"In our home country we do more studying in my home country. But for instance you can't retake tests. We don't get that much worksheets," Idahosa said.
"You have a relationship with the teachers, a real relationship. Here you can really see the difference between teacher and student. It's like we are friends," Costiniuc said.
"You don't have to choose the lessons; you choose the school. It's like your college here, if you want to be a doctor you have to choose a school. I have English, Spanish, French, Italian, Mass (a Christian service), history, Geography, Economy—we have a lot of classes because we don't have the same classes everyday. School goes from Monday to Saturday," Costiniuc said.
The girls have experienced many culture shocks with the clothing in the US from the fashion choices or anything revealing.
"[The girls] dress very nice. They have curls in their hair, and have on so much makeup. But, the other half dress like they want to go to sleep. In Germany we wouldn't go with the sleeping look. It's not elegant. We just have normal clothes," said Rehder.
"Most [people] wear jeans and longer shirts, and it is hotter in Italy. The way you look is so important. If you want to be someone you have to have a good look," Costiniuc said.
"The people [here] wear really short shorts. It is a little strange for me not to pay attention [to] people's appearances. I don't care how people dress here but I would never dress like that," Ghukasyan said.
Knowing a language that one wants to improve on would like help. Usually many foreigners would like the help and corrections.
"That's what [I] really don't like here. Nobody here corrects me. I ask everybody if they could please correct me because I don't want to learn false English. But, nobody corrects me. If I ask, 'Did I say it wrong' then they will tell me. If I don't ask, they won't tell me," Rehder said.
"They should help so we can improve. It's so difficult to have a conversation. For me because I don't know English very well. It's hard for me to translate and I have many languages in my head," Costiniuc said.
Rehder and Idahosa both have had a remarkable time here and still plan to do many things here.
"I've gone this long without my parents, but I don't have problems. It just feels like a long vacation. I want go to Disney World, Universal Studios and SeaWorld. I would go to Las Vegas and San Francisco," Rehder said.
"[I] had [my] first football game, [I] had [my] first baseball game. I ate my first American burger, and my first American ice cream, and I went to a huge grocery store. I am excited that I got the chance to go to Washington D.C. in November as part of the scholarship. At the end of the exchange year I will go to Washington D.C. again," Idahosa said.
Exchange students have had exciting good experiences but also gone through difficult times as well.
"The first month was hard for me to adjust to being in a different culture but, God helped me a lot," Idahosa said.
"Here I'm sleeping during lessons. In the system is you deal with papers a lot. Teachers [in my country] don't give us any papers, we don't take it home, we don't bring it the next day, that's why I was confused because they would give me papers and I didn't know what to do with them. I would throw them away," Ghukasyan said.
All the students have things they miss and things they are glad to have experienced.
"You can make friends and the best thing is you can say that you have a second family away from home. I am so thankful of my host family. I think this is the best thing I've ever done," Idahosa said.
"It is difficult because in Italy I have only my mom. I miss only my mom because she's in Italy. Now, I don't miss Italy. I will never miss Italy. I'm Romanian, not Italian. So, I miss Romania," Costiniuc said.
With five different cultures each student have been able to judge both their own country and the US.
"We are all different, and all countries have good things and bad things," Costiniuc said.
Margo Dulny // Staff Writer