From High School to Olympics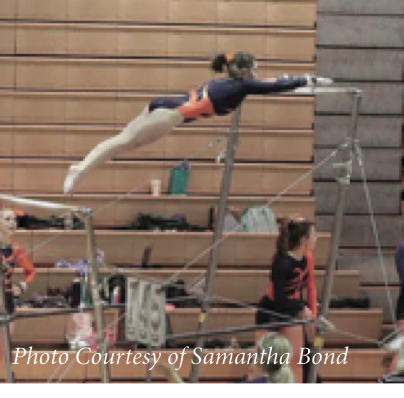 Bond started playing sports when she was two years old. She competed in many different activities but stuck with gymnastics because of its challenging nature.
"I like that I can do skills that not a lot of people can do," Bond said. Bond has received multiple awards, but those aren't her only accomplishments. Bond is elated to have won a team state championship last year.
Ultimately Bond was shocked when she heard Coach West chose her as a candidate for the Olympics because she's never thought about being an Olympian.
"I've always just seen myself as just a regular athlete…I see myself as equal, not higher above than anyone," Bond said.
Bond is very thankful to have that honor and hopes to obtain some of her coach's qualities as she grows. She doesn't plan on continuing as a gymnast in college, but she will still go to open gyms when she can. She still wants to have fun as a gymnast but wants to participate in other activities in college. Without gymnastics, Bond claims she wouldn't be anywhere close to where she is today. This activity has given her many skills and behavior advantages. She met plenty of close friends while doing gymnastics and is very thankful for that.
"I love every person I've met through this amazing sport," Bond said.
Schmeeckle started her running career in grade school. She was never a big fan of other sports so she decided to turn to running. "I didn't really love contact sports," Schmeeckle said.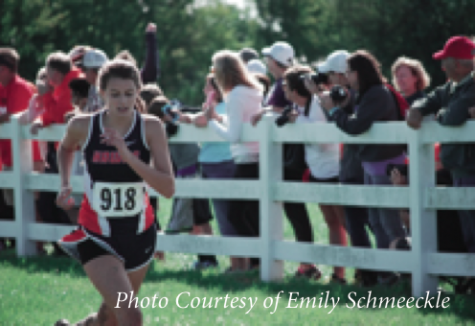 Once Schmeeckle started running, she was hooked. Her teammates were what kept her going for the most part, and she became close friends with many of them. A majority of her friends and team mates give her motivation to keep on running, to do her best and help her when she's down.
"People will tell me you have to have a bad race to appreciate the good ones," Schmeeckle said.
The team was an influential inspiration to her, and she keeps in touch with them even though some of them have already gone on to college. Schmeeckle has worked with Coach Bozarth for all four years of high school and when told she was one of the athletes chosen by him to be a future Olympian, she was honored. Schmeeckle won state her sophomore and junior years and is very proud of that. She has run over 1,000 miles in cross country and participated in 5k runs outside of school, placing in some of them. Schmeeckle does not plan on continuing in college, but she definitely wont stop running.
"I will definitely keep running…I've done that all of my life." Schmeeckle said.
Schmeeckle pushes herself to do her best and is very self motivated but she also appreciates the support she has received from family and friends. The nature, the people and good company are why she keeps running and will continue to as long as she can.
Felicity Wenger // Staff Writer