U.S. Army Band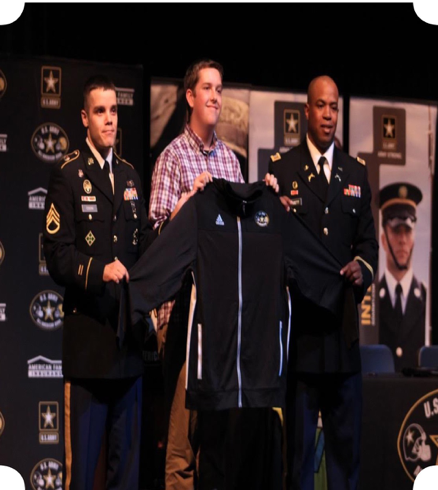 "I was just sitting at home and I showed my dad and I was like, "hey, dad," I made the army band. It was really exciting, and my whole family celebrated," said Senior Andrew Wray.
He was accepted into the U.S. Army All-American Honor Marching Band, an honor band for students in grades nine through twelve. That day he became one of the 125 students from around the nation to get selected for this esteemed opportunity. This prestigious group will perform on January 7, 2017 in San Antonio, Texas for family and friends. All of the selected members will travel down to San Antonio on January 2 and begin their intense rehearsal process for the entire week leading up to the performance. Wray was ecstatic to find out that he was accepted and he cannot wait to play the drums in this national honor group.
"I'm glad that I get to be able to play with all these other kids that really love music and enjoy it a lot," Wray said.
This program associates itself with the U.S. Army, but that does not mean that the members have to enlist in the army. However, some sponsors might want some of the selected musicians to transition into one of the service bands.
Therefore, Wray was also recognized for his achievement by the army through the Selection Tour, a small assembly on October 10. Wray then received his jacket from the Army representatives at the assembly.
"They talked about what it means to be accepted into the group and my parents, my family and all the band students got to come and see it," Wray said.
To be accepted into the program, Wray had to submit a solo percussion audition video of himself playing the drums. Wray's immense musical background gave him an advantage in his submission. Wray's band career began at the age of two when he first touched a drum set. He has also been encouraged along the way by his family who are very involved in music. Wray has been taking private percussion lessons through The Culture House for 10 years, practicing anywhere he can, whenever he can. Along with that, he is finishing his fourth year of high school band, after playing in middle school band as well. He played in jazz band, marching band, drum line, and plays in church. Wray also played on percussion ensembles, mallet instruments and with the orchestra and choir on a couple of occasions. Wray, a percussionist of last year's All State band for Concert Band was, chosen as a section leader for the tenor line section in the Olathe East band. As a section leader or part of the band leadership team, Wray encourages others and helps them with their questions and experiences.
Wray feels that the band program has helped him to grow as a person, from freshman year when he first was welcomed by the band directors and fellow students to his senior year where he's made long-lasting friends and relationships.
Melanie Eszter // Social Media Chair