Eyes on the Prize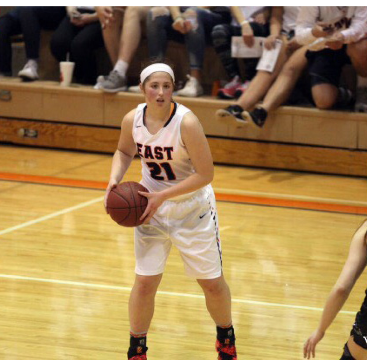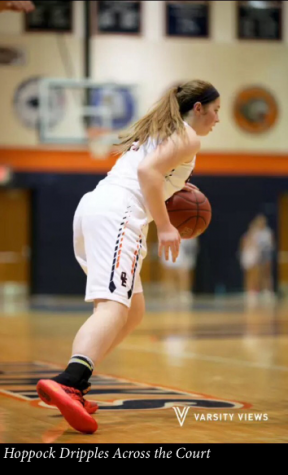 Senior basketball player Caroline Hoppock said she cannot remember a time without a  basketball in her hands. Her successful career playing basketball came from the encouragement of her family's love for basketball and playing varsity all four years in high school.
"I got my varsity letter when I was a freshman. There was only a couple of us that actually played. I actually started my sophomore year. I had really good upperclassmen and leaders that helped," Hoppock said.
Before the game begins, to get set on the court, Hoppock plans possible plays for the game.
"My team, we always have a plan, but I also always have a plan. If there's a short girl, I know I immediately need to go in and post and if there's a girl who isn't as quick as me, I'll mess them up on their dribbling," Hoppock said.
When the opposing team has disadvantages and creates an unchallenging game, Hoppock focuses on the advantages of the opposing team and uses them in her favor.
"[If they're tall] I usually try to get them to jump and [I'll] drive pass them. [If they're fast] I do a move to try to get them off balance," Hoppock said.
Coach Evans coached the four years while Hoppock played basketball at Olathe East. He agrees Hoppock is a talented player.
"She's a great scorer, a very good attacking player, incredibly strong, and she's a very tough match-up for other teams because she can play inside and out. It makes it difficult for other teams to guard," Evans said.
For every athlete, injuries are probably the most irritating problem to deal with. In the moment, pain is not a friend and sitting out during the game makes the athlete feel meaningless.
"Our whole team has been battling [with] injuries. This last summer I had two fractures. At the beginning of the season in November and early December, I had really bad tendonitis. Now I'm doing therapy for my shoulder. It's like one after another," Hoppock said.
Basketball almost consumes Hoppock's life, but she also participates in Fellowship of Christian Athletes, travels and loves her ceramics and anatomy classes.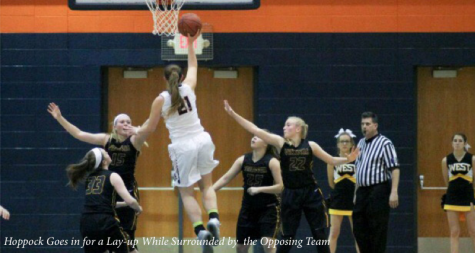 "I travel in the summer for basketball. If [my family] travels somewhere, we'll make a vacation out of it," Hoppock said.
Evans remains confident with Hoppock's basketball future career and her ability to score a scholarship.
"She'll find somewhere to play; she's a talented kid playing. She'll do great wherever she goes," Evans said.
Since Hoppock's life revolves around the game of basketball, she finds thinking beyond her sports career difficult.
"All I've ever wanted to do is play basketball. I want to become an athletic trainer or a physical therapist, to help people. I want to stay in the sport. I'm planning on enrolling at Kansas State and Missouri State, and I want to help wounded warriors if basketball doesn't work out," Hoppock said.
Hoppock's coach wishes her a strong career in basketball when she leaves Olathe East.
Evans said, "I've enjoyed being her coach for four years. I want the best things for her. I hope she stays healthy and gets us back to state."
Margo Dulny // Staff Writer