We've Been There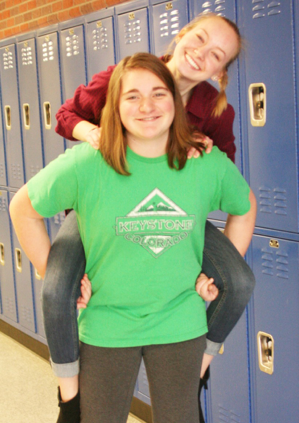 Dear Class of 2021,
Welcome to Olathe East! Pretty crazy that you guys will be going to school here in a short six months. You want to know what's even crazier? In three short months, I won't be going to school here anymore. My name is Mikie Brown, and I am a senior. I'm writing to you all today in an attempt to share some guidance as you embark on you high school journey.
Just as many of you are probably feeling, I was TERRIFIED to come to high school. My middle school years, while awkward and occasionally drama filled, were pretty darn good; I didn't feel completely ready to leave yet. I had a solid group of friends, was co-captain of the drill team, and had finally figured out all the twists and turns of the CT hallways (go Bulldogs!). I had also heard all the things about high school that you've probably heard from TV, peers, books, and movies: that upperclassmen will shove you into lockers, coaches and teachers are all mean, you won't have any of the same friends, etcetera. I don't know about you, but that didn't sound super appealing to me. Turns out though, NONE OF THAT IS TRUE! You'll make new friends, that's pretty much unavoidable, but who says you can't keep the old too?! For the most part, teachers here resemble the ones you have in middle school – some will treat you like you're younger, some will treat you like you're older, some will give a lot of homework, and some won't give any. And upperclassmen? Boy, was I nervous about them. However, I can pretty confidently say that the worse thing an upperclassman will ever do to you is ignore you. Unfortunately, the "go home freshman" chant that will probably happen at pep assemblies (we're trying to get rid of that) has nothing to do with who you are as individuals. I know that East probably seems huge, and all us adult-looking kids seem really intimidating, but I promise you'll get the hang of this high school thing in no time. If you CAN'T WAIT to walk into these big front doors on the first day of freshman year, I applaud you. High school truly is as great as it sounds, and not nearly as terrible. 😉
Looking back at my freshman year self compared to now, I have changed more than I ever thought possible. I have grown as a student, performer, friend, leader, young adult, and person. Soooo many opportunities are coming your way – every single one of you – and I encourage you to take as many of them as you can. Trust painfully shy freshman me, I KNOW it's difficult to put yourself out there, but it's worth it, and I know it's incredibly overwhelming feeling like you have so many big decisions to make, but freshman year should be about fun! Do and try as much as you can, while you can, but keep in mind, it's never too late to try something new. I'm writing to you now from a computer in the newspaper classroom – a room I had never stepped foot into until the end of my junior year when I came in and asked Mrs. Kirk if I would be able to join her staff as a senior (spoiler: she said yes).
There is truly something for everyone here at East, and I hope you all have the courage to find it. Please keep in mind, however, that there's still a lot of life left to live after high school. It won't last forever, and depending on who you are, that can be a really wonderful or a really scary thing. I encourage each of you to never take a single moment of your time as an east hawk for granted. There will be good times, bad times, stressful times, insanely fun times, and yes, life changing times. These moments will shape not only your high school experience but who you become as a person, and I wish you all the best.
Sincerely,
            Mikie
Dear Future Freshmen,
As I walked through the doors of high school last year as a freshman, terrified of everyone and everything around me, I found it tough being in a whole new school especially such a massive one like East. Insane amounts of people all around me, extensive hallways with confusing classroom numbers, four mixed grade lunch periods and the new concept of block days: all new things but don't worry, you'll get used to them just like I have! 🙂
One of the first changes I noticed was we get six minutes for passing period. I always thought I'd need ten minutes or more to get around this enormous school but I think the time given is just enough. I'll be honest and say that extra sixth minute you get in high school compared to middle school can be a lifesaver, especially when you have to cross the entire school to get to your next class, but the allotted time is usually perfect. I had to keep this in mind because classes end at weird times, so memorize those times. With over 1800 students the hallways will constantly be crowded so I highly recommend walking on the right side just like you do in middle school. With such a huge population, the four lunch periods might not allow you to have lunch with your friends. This was pretty disappointing to me, but you could get lucky like I did. On a normal day, you will eat lunch with your fifth hour. On odd block days, you go with your fifth hour still but on even block days you go with your fourth hour. Again, you get plenty of time to chat during lunch but I always had to remind myself to use my time wisely because you need time to eat as well. First hour starts at 8:00 so besides lunch, before first hour may be the best time to hang out and talk with friends. I usually find a meeting spot in the commons to talk to my friends every morning. I suggest not talking to your friends in between classes to save some time, and avoid the bridge if you can because it's always a traffic jam. I always end up running into people on that bridge! Remember, you can use your phone in high school, so you   can always text your friends in between classes and during lunch. It's really convenient for me personally because I'm glued to my phone like many teens are. Trust me, you're not the only iPhone addict in this school. Just remember to put it away when necessary, because having your phone out is definitely a privilege, and I see phones being taken away almost every day. You get much more freedom in high school than you do in middle school, which is one of my favorite parts about East. For example, you get to carry your backpack around with you for the entire day, which can be really handy. Most people, including me, don't even use their locker anymore because they have everything they need on their back! ;)Overall, not having to use your locker is a time saver and to come full circle, another reason I think six minutes is perfect.
East isn't a place to be feared, but a place to educate and prepare yourself for college. There are so many more class choices at this school, including my favorite class: newspaper! While the boring classes do exist, high school is the place where you create your path for the future. A multitude of cool opportunities are offered here at East that will make these four years something you wont forget.
Sincerely,
          Felicity
Mikie Brown // A senior who's still figuring it all out
Felicity Wenger // A Freshmen whose journey has just begun