Hawks Down The Road
Previous Olathe East graduates have used their talents learned from high school to follow their dreams into the working world.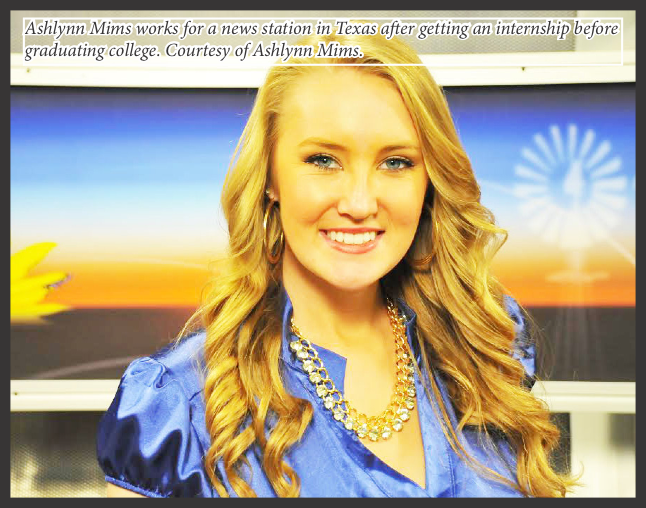 Ashlynn Mims graduated from Olathe East in 2012, finished her senior year at Kansas State University at the School of Mass Communications a year ago in May.
Mims credits her love for broadcast journalism from Mr. McDonald's Video Production Class. The class allowed everyone to make their own creative stories, and everything in between from filming and editing video to video packaging.
Mims added, "Video production didn't seem like work, so that is when I knew I had a career in Broadcast News. I knew I would wake up every day loving what I do for a living."
Public speaking under the instruction of Jill Vohs became another successful tool that helped Mims in the college world.
This past summer Mims interned at Channel 2 News in Houston, Texas. She worked producing, reporting, desk editing, and other jobs that became requested of her.
Mims said "I worked hard and went above and beyond in an effort to show my talents. As a result, I was offered a position to come back to Channel 2 to work as an Associate Producer once I graduate in May, which is an opportunity not many receive."
Mims advises to future graduates about taking pride in work, networking, and staying persistent. If they do this, they will get noticed for their hard dedication as she did, and now she will have a job waiting for her even before graduating college.
Julie Burton graduated from Olathe East in 2000. She currently writes for Simply KC magazine and operates her own non-funded personal blog called Bug Bytes. When she has time, she free-lances for various companies and PR firms.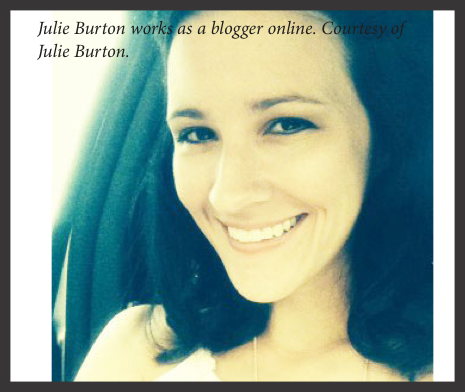 For Simply KC, she interviews people all around the metro, from small business owners and doctors, to local celebrities like Eric Hosmer, Travis Kelce, and Jeremy Maclin. Burton is presently working on a project with Eric Stonestreet from "Modern Family."
As a student at Olathe East, Photography and Fashion, taught respectively by Mrs. Silks and Mrs. Hungerford, interested Burton because of the creativity needed. Burton encouragingly says, "I didn't make straight A's in English, but I did enjoy writing and reading. I think anytime you are creative, especially when you do it for work, you need to be confident. You will get criticism. Your confidence with your craft will help overcome that. I think the teachers at OE were good at "lifting" us up creatively."
After graduating from Olathe East, Burton said she didn't feel 'done' yet, so she attended Kansas State University for more schooling.
Burton feels that not knowing what career to do in the future is normal. She said that she didn't even realize she had talent for writing until she wrote a blog about her daughter, and it went viral.
Knowing that people enjoyed reading her writing made her feel successful, and it encouraged her to write more. She said it might take a while to find a passion, but imagining people reading their work makes the writer better in the end.
Burton also recommends networking, meeting people, and making a good first impression. Imperfections make a person unique, and Burton wishes that she had realized that earlier.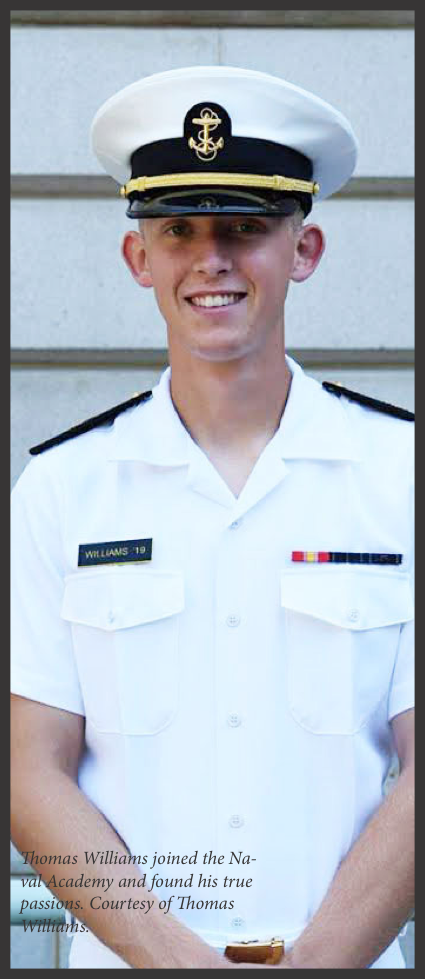 Thomas Williams graduated from Olathe East in 2015, employed as a Midshipman in the United States Naval Academy when he graduated high school.
The Naval Academy offers 22 different majors similar to non-military schools offer, however the students there both go to school full time, and are fully employed in the Navy. Instead of going home, they go in for training wherever they station.
For Williams, on breaks of summer this year, he will instruct rising seniors in a program called Summer Seminar. During the last half, he will sail overseas somewhere in the world on a Navy Ship where he will lead after his graduation in 2019.
Entering the Naval Academy created major mental challenges for Williams, as he says he the mind, the body, and the soul needed to form the person Williams is today.
Plebe Training, similar to boot camp in the summer trains the soldiers to push to their limits. This high intensity helps the soldiers become stronger to ensure they become the best leader possible.
Training next to future fighter pilots and seeing results from hard work training seems to make for an accomplishment to the soldiers.
Williams relied on religion during training, with this becoming an important or reward that couldn't be ignored in his life. He said whether people believe in religion of a higher power or not, having a reliance helps get through hard times in life.
Williams said "If I were to have chosen a different college or university, I would still be challenged in a multitude of ways, but I always would have felt that something was missing."
During his time at Olathe East, Williams said that all of the academics were top notch, but he especially loved the Math and English Departments as in his opinion are the two most important subjects to prepare for the future.
Olathe East stood as a model leadership place for Williams to study. From baseball to Spanish National Honor Society, every student has potential to succeed.
For high schoolers preparing for the future, Williams said not to treat yourself as a victim, as people are not against you. The way to help yourself is to keep working harder to get yourself ahead.
Williams said "I can promise that if you prioritize your personal development, you will be not only happy, you will be content.  Anyone can be happy; happiness is purely physical, it's what you feel after your favorite meal.  To be content is a mindset, and it only occurs when you feel successful in all aspects of your life.  So my advice is to put your head down, cast aside the criticism, and work towards transforming all the potential you have into a successful future."
Update:
Since the last time Ashlynn Mims, Thomas Williams, and Julie Burton were interviewed last year, changes have taken place.
Ashlynn Mims switched positions in her job at KCPR channel 2 news, and she now is in charge of writing articles for online, and helps manage the station's social media accounts.
Mims said "There is never a dull moment in news. It is fun, but it is difficult at times."
Julie Burton still writes for her blog, and one new adventure that she steps out with is becoming an author with her first book.
Thomas Williams still remains as a Midshipman(student) in the Naval Academy in Annapolis, Maryland.  Last year Williams was a Midshipman fourth class, and this year he steps ranks to be a Midshipman third class.
Williams is one of six sophomore staff leaders who are responsible for training fourteen freshman this year. Everyone is required to wear a uniform, and help with collateral duties.
The Naval Academy takes the summer months of most student's summer break to train future and current Midshipman on how the school will work, and to see if it will be the right fit for them.
Last summer, Williams was flown to Pearl Harbor, Hawaii where he spent two weeks working on an aircraft carrier. This summer, he will be going to Raytheon Missile Systems in Tuscon, Arizona working with tactile missiles.
Some extra benefits to the new rank are that they can leave more often on the weekends, they don't have to get until 6:45, an extra hour from the previous 5:45 awakenings.
Williams is enrolled in 21 credit hours for school this year, which proves that he still keeps busy.
One fun event that the people in the Naval Academy like to joke around with is the Brigade of Midshipman where 4500 students march in formation to lunch.
Williams said, "This is a big tourist attraction, so the joke here is that people come from a thousand miles away to watch us go to lunch."
Williams said that the work that they must do every day in the Navy is tiresome, but they are being educated on how to be the best warriors on the battlefield.
After the Midshipmen graduate, they will be just below officer positions, but above the enlisted personnel. They all will receive a bachelor's degree as well as a commission as an Ensign.
Williams' true goal for after graduation would be to become a Marine Corps Pilot with the aim of flying fighter aircrafts like an F/A-18 Hornet or the F-35 Lightning.
Williams, Burton, and Mims all look forward to their exciting futures.
Blythe Dorrian // Co-Editor