Girls Spring Sports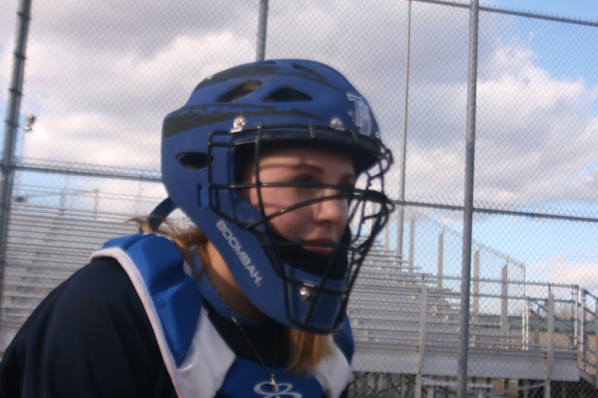 Softball
Looking to build off a third place state finish from 2016, the OE Softball team in ready to get back on the field. Head Coach Stan Spurlin reflects on last season.
"Last season we had two outstanding seniors, Kaylee Byers and Leslie Twillman. [They] really helped carry us further than a lot of people thought we would. We lost some seniors the year before that. We lost a lot of hitting in that group, but [Kaylee] and [Leslie] worked a lot with our juniors. A really strong season," Spurlin said.
A key contributor this year, Junior Catcher Devin Conley shares her thoughts on last season.
"Last season we passed through regionals, and went to state. Unfortunately, there was a lot of weather issues. But we ended up tying for third with Olathe Northwest. I think we need to hit better, and [getting] productive outs," Conley said.
With six returning seniors, the team has the experience and the mindset to impress many people this year. Spurlin reflects on the experience.
"This is the most seniors we have had in a while. A great group of leaders, who have been in the program for four years. Many of them as varsity members. We expect a lot from them in our offseason programs with them. Senior Haylee McGhee is an outstanding pitcher. We need to give her more run support, and that is our main goal heading into this year," Spurlin said.
Junior Outfielder Miranda Delgado looks to the schedule and sees two teams that will be the toughest.
"Olathe South and Olathe Northwest are tough competitors and play the game really well. I am also excited to play free-state," Delgado said.
Girl's Soccer
Coming off a 12-6-1 record, the Girls' soccer team are hyped to get back on the pitch this season after making it to Quarterfinals and losing to Blue Valley West 2-0. A senior dominated team, including Grace Stein, a four-year member of the Girls varsity team, shares her thoughts on the past season.
"We won the regional championship for the third year in a row, and lost some good seniors. We lost to Blue Valley West in the Elite Eight," Stein said.
Elite Eight. Those words were echoed by Head Coach Terry Hair in his 25th year as Olathe East Head Girls Soccer Coach.
"We lost in the Elite Eight to a team that eventually finished second in the state and we were not able to go to the Final Four," Hair said.
The team has been preparing all season, and playing all year round. Hair notes this.
"We have a rich tradition of excellence at Olathe East Girls' soccer. They have committed to improving themselves in the offseason, by getting bigger, faster, stronger," Hair said.
Looking towards the season, Hair looks forward to a few teams who will be a challenge to his girls side.
"All of the games will be tough. The Sunflower league is a very competitive league, along with the other Olathe Schools. And [of course], Shawnee Mission West [were] state champions last year. We don't have any easy games on our schedule," Hair said.
Girl's Swim
No Complaints is the motto of the Olathe East Girls swim and dive team. Head Coach David Youker, 13th year as girls head coach talks about what that means to the team.
"No Complaints is a way to look at life. How are things going? No Complaints. We aren't going to complain when we are here at Olathe East swimming. On our team, we aren't complaining. Complaining brings people down," Youker said.
The team is here to swim, compete, and have fun. Senior Samantha Davidson offers insight at what the team can do to improve.
"Putting in hard work at practice and continuing to have a good mindset," Davidson said.
Looking back at last season, Youker had a successful season and will look to see more improvements.
"The [team] worked hard and very much into the team. They were all team-oriented. I think it reflected in their swims and dives. We were a part of the Sunflower League, and swam [in that division]," Youker said.
On the Diving side, Head Coach Ryan Meeker in his fourth year as the head diving coach, talks about this year's team, which includes three divers.
"This year's team is up and coming. We have a good shot at having another state qualifier this year. We have a couple of divers who are [soaring] and I am pretty excited to see what they can do," Meeker said.
Another swimmer, Senior Annalisa Rowe, shares her thoughts on this year's schedule.
"One of the meets that i am looking forward to the most is the Olathe City meet: [It involves] East, Olathe South, Olathe North, Olathe Northwest. I know that East has won it all three years that I have been here. So I am looking to pull out another win" Rowe said.
Jacob Stofer // Managing Editor