But That's My Spot
Trying to get through the school parking lot this year can be a disaster for students. With more cars trying to fit through less exits and park in fewer spaces, students wonder if the problems can ever be fixed.
Since the exit leading to Blackbob Road was closed to Olathe East, the way students and teachers have had to make their way through the parking lot has changed.
"People have work at 3:30 and don't even get out of the parking lot until 3:30," senior Maggie Hagen said, "It's madness."
With the closing of the back exit, the parking lot behind the school has also been closed to students who could have parked there previously. However, the south parking lot is not completely off limits.
"For students who just want to hang for maybe 10 minutes, whether that's in their car in the parking lot, or in the commons or whatever, once they come out, if they're beyond 3:12 in the afternoon, that back road is probably wide open for them to get out," said Assistant Principal Frank Bell.
"The reason that it's closed right now is because we have seventeen buses that park there after school on the south side of the building, and in order to get them out they have to use that back lot to turn around," said Olathe East Principal Kerry Lane. "If we don't have that back lot opened, they can't turn around and get out."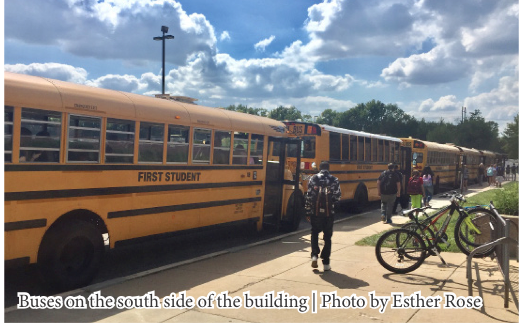 Olathe East staff members have been told to park in the south parking lot. "Because staff leaves [at] 3:30 and beyond, the buses will be gone by the time they leave," Bell said.
Students suggested having athletes park in the south parking lot. These students stay longer after school, past the time that the buses leave.
"We considered that," Bell said. "When is that regulated? Well, that could start at students arriving at 7:00 am. So who's gonna be back there to ensure that only student athletes are back there? Are we going to have a security guard say 'Are you an athlete?'
And what if a kid goes out for a team and a week into it he decides 'I don't want to play football?' But he got the sticker, now what?"
"Just to administer it would be very, very difficult," Bell said.
"We've hired another security guard to help with traffic; we've also had a traffic consultant that came out Friday [8/25/17] and is coming out again today [8/28/17]," Lane said.
"It's possible," Bell said, "that we might have some more lines or arrows painted on our blacktop, on our driveways, so to speak, to help with some of the flow. We're experimenting with where cone placement is best to get everyone in and out as quickly as possible."
Junior Izzie Petersen drove to school all of last year, and commented on the increased traffic. "People need to learn the 'every other' rule where one car from one lane goes, and then another one, and it's a pattern kind of thing," she said.
Lane explained how parking lot traffic will be controlled. "At this time, probably each day it's going to take us five people after school, three security guards (one we got extra that the other high schools don't have), and then the two administrators," Lane said.
Junior Annabelle Schmelzle, who drove to school last year as well as this year, commented "It's gotten slightly better from the beginning of the year."
Some of the other Olathe schools have only two exits. "Now, we're battling what Olathe North as always battled, what Olathe Northwest has always battled," Bell said. "That's the way it's always been for them, they're used to it, we're used to getting in and out."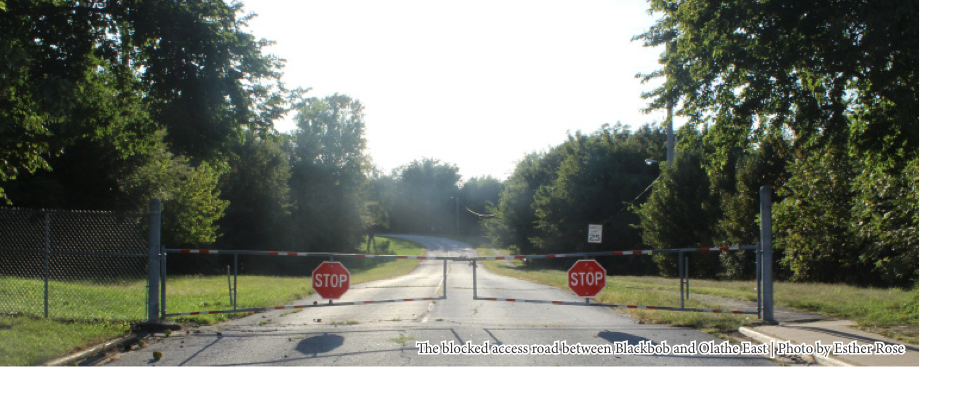 Bell revealed the future Olathe East has planned for the back road. "Bad news for seniors. Good news for underclassmen," Bell said. "We're being told by the city and the developer that the road will be back open next school year. So that's closed for the entire school year, and it's outside of the control of the school and outside of the control of the school district."
The parking lot will be harder to get through, but what seemed like a disaster at first will improve as the year moves forward.
Esther Rose // Staff Writer